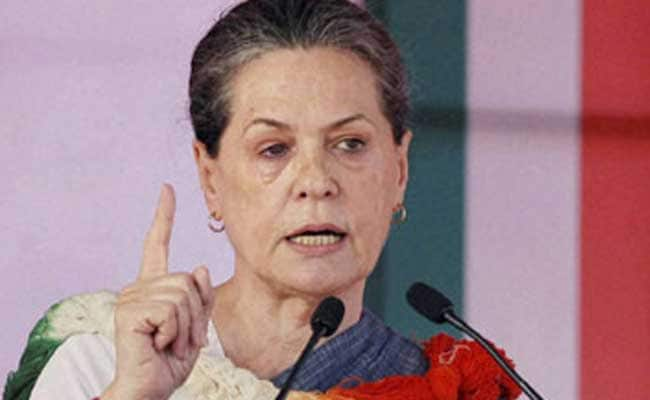 Varanasi:
Kicking off her poll campaign for the 2017 Uttar Pradesh Assembly election, Congress president Sonia Gandhi will hold a roadshow in Varanasi on August 2.
Thousands of supporters and party workers are likely to participate in Mrs Gandhi's roadshow which would cover nearly 8 km distance, passing through the busy and narrow lanes of the city, Congress District unit president Prajanath Sharma said.
She would also garland statues of Mahatma Gandhi, Rajiv Gandhi and Sardar Patel falling enroute, he said. At the Englishiyaline, Mrs Gandhi is expected to make a five minute speech and also garland the statue of Pandit Kamla Pati Tripathi, a former UP chief minister and union minister, Mr Sharma said.
Congress's UP Chief Ministerial candidate Sheila Dikshit and Ghulam Nabi Azad will also be present in the roadshow, he said.
The Congress chief is expected to take on Prime Minister Narendra Modi in his Loksabha constituency over "lack of development" despite his promise made during the 2014 Loksabha campaign to turn around the holy city. The roadshow is also aimed at rejuvenating her party workers ahead of the crucial Assembly polls.
She would target PM Modi over his much-hyped Clean Ganga initiative, highlighting the river's "plight" in his constituency and also "expose" the Centre's Swachch Bharat Campaign in the temple city, the party district unit chief said.
Poll strategist Prashant Kishor, senior Congress leaders Salman Khurshid, Rana Goswami, Zafar Ali, Rajeshpati Tripathi, Rajesh Mishra, Ajay Rai along with other leaders are holding regular meetings for the success of the show. State president Raj Babbar along with several senior party leaders will arrive in the city this evening. They will camp here till August 2, Mr Sharma added.