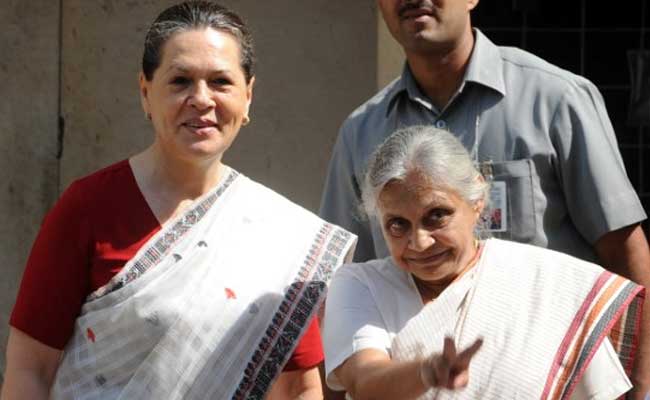 Highlights
Sheila Dikshit, 78, is former chief minister of Delhi
She has agreed to run for chief minister in UP: sources
Priyanka Gandhi Vadra to star in Congress campaign
New Delhi:
Sheila Dikshit, 78, may have finally succumbed to her party's wishes and could be named the presumptive chief minister of Uttar Pradesh by the Congress.
Sources in the Congress told NDTV that the party is also likely to announce that the campaign for up will include a lead role for Priyanka Gandhi Vadra, whose mother Sonia Gandhi and brother Rahul Gandhi are the top bosses of the Congress.
Priyanka Gandhi, 44, had in the last election campaigned for her family in their constituencies of Raebareli and Amethi. This time, she is expected to lead rallies across the state, which votes next year.
Mrs Dikshit served three times as chief minister of Delhi before Arvind Kejriwal dismissed her with a record mandate in December 2013.
Prashant Kishor, master strategist credited with a huge portion of Prime Minister Narendra Modi's victory in the general election, has taken on the congress as a client and made it clear about two months ago that he wanted a Brahmin face and an outsider as chief ministerial candidate. This, his team has said, was a calculated strategy designed to win back the congress' traditional support base in India's most populous state. Mr Kishor also hopes to gain ground for the party among Muslims and non-Dalit other backward classes (OBCs). With those sections, Mr Kishor has calculated, the Congress can win 27-28 per cent of the vote share - that's what's needed to win up.
The Uttar Pradesh result will be used to extrapolate the outcome of the 2019 national election.
Priyanka Gandhi's last campaign in up saw her asking voters to seek revenge from the BJP for its allegations of corruption against her husband, Robert Vadra, a controversial entrepreneur.
Mr Vadra is being investigated for a land deal in Haryana struck while the Congress governed the state. A retired judge, Justice SN Dhingra, last week abruptly sought more time to collect evidence in the inquiry that includes Mr Vadra's purchase of a plot in Gurugram near Delhi and its sale three months later for windfall gain.
The Congress and Mr Vadra have denied any wrongdoing on his part.
The BJP has said that Priyanka Gandhi's frontline position for Uttar Pradesh is evidence that her brother, Rahul, is being acknowledged within the congress as failing to deliver. Mr Gandhi, 46, led the campaign in 2014 which accrued the party's worst-ever result. Since then, the Congress has been voted out in a series of states.