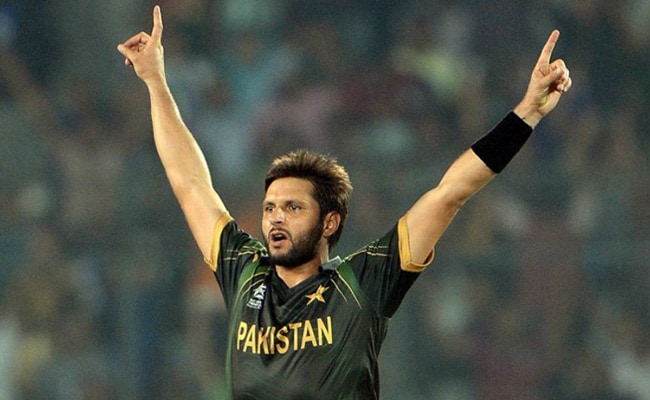 Highlights
Pak cricketer Shahid Afridi tweeted on Kashmir
He was reminded of Balochistan issue by Twitter users
He tweeted on a day when US acted against Hafiz Saeed's outfit
New Delhi:
Pakistani cricketer Shahid Afridi has been lacerated on social media over a tweet on Kashmir, where he alleges there is an "appalling and worrisome situation" and urges UN intervention. This, on a day the US has taken action against a Pakistani outfit controlled by 26/11 mastermind Hafiz Saeed, who roams freely in Pakistan.
Shahid Afridi was clobbered in tweets not just within the cricket fraternity but also by others. The definitive last word came from a fellow cricketer, Gautam Gambhir.
Appalling and worrisome situation ongoing in the Indian Occupied Kashmir.Innocents being shot down by oppressive regime to clamp voice of self determination & independence. Wonder where is the @UN & other int bodies & why aren't they making efforts to stop this bloodshed?

— Shahid Afridi (@SAfridiOfficial) April 3, 2018
Media called me for reaction on @SAfridiOfficial tweet on OUR Kashmir & @UN. What's there to say? Afridi is only looking for @UN which in his retarded dictionary means "UNDER NINTEEN" his age bracket. Media can relax, @SAfridiOfficial is celebrating a dismissal off a no- ball!!!

— Gautam Gambhir (@GautamGambhir) April 3, 2018
The former Pakistan captain was reminded by Twitter users of restive Balochistan and allegations of Pak atrocities in the province.
Your own country is engulfed in human rights, fights terrorism and advocates same for the neighbour. There can't be two sets of the definition. Preach to your own country, what you preach to the neighbour. https://t.co/O07K1xVQMd

— Waheed Ur Rehman (@parawahid) April 3, 2018
Dear @SAfridiOfficial Bhaijaan,As a role model/Sports icon r U teaching youth of Pak that TERRORISTS r innocent ?
No wonder Hafiz Saeeds & Ladens r worshiped in Pak
What abt Baluch Genocide ?
https://t.co/3ZUc6LsXJJ

— Maj Surendra Poonia (@MajorPoonia) April 3, 2018
Others told him off in no uncertain terms about his use of the term "Indian Occupied Kashmir". One of these tweets was from Virat Kohli - not the Indian captain but a fake handle.
Just a Correction : it's a "Pakistan Occupying Kashmir" .. KASHMIR WAS, IS AND WILL BE A INTEGRAL PART OF INDIA 🇮🇳.

— Virat Kohli⏺️ (@imVkohi) April 3, 2018
But later in the evening, Shahid Afridi tweeted again, talking about human rights of the people of Kashmir.
We respect all. And this is an example as sportsman. But when it comes to human rights we expect the same for our innocent Kashmiris. pic.twitter.com/DT5aF1wX8P

— Shahid Afridi (@SAfridiOfficial) April 3, 2018
On Monday, the US designated the MML or Milli Muslim League, the political front of terror mastermind Hafiz Saeed's Jamaat-ud Dawa, as a foreign terrorist organisation. The MML is also an alias of the Lashkar-e-Taiba.
India said the decision reflects the rejection of attempts in Pakistan to mainstream terrorist and terror organisations. New Delhi also said the US decision reflects Pakistan's failure to dismantle terror sanctuaries on its soil and vindicates India's position that Islamabad has not taken effective action against terror.