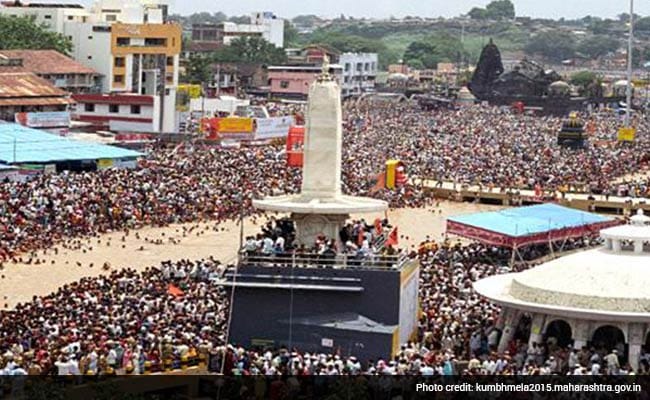 Nashik:
The Nashik district administration has rebutted claims made by activists that the Godavari river is polluted with sewage.
NDTV would like to clarify that the report on sewage flowing directly into the Godavari is a claim by the petitioner and the local administration says all drains that empty sewage into the river have been diverted and the devotees who are expected to take a dip in the river need not worry at all. While some drains have been diverted permanently into sewage treatment plants, some have been diverted temporarily too to ensure devotees are not affected.
The Nashik Municipal Commissioner Praveen Gedam has categorically stated that the claims of the NGO that untreated sewage is going into the river is untrue. He told NDTV "Last month itself, nearly 20,000 people cleaned the Godavari. That included government officials as well. I personally cleaned the river. The water is absolutely fine and I am willing to take the first dip to ensure that there is confidence among the people".
"Sewage from 19 gutters enters the Godavari. All that water comes to Ramkund. People don't just bathe in this water, they also consume it", Nishikant Pagare, a social worker in Nashik had told NDTV on Wednesday. Today, the other petitioner in the case, Mr. Rajesh Pandit told NDTV, "NEERI has recommended another treatment, a tertiary treatment by which the BOD in water reduces to below 10 which can solve the problem. There are two solutions given by NEERI and the administration is working on it."
Nishikant Pagare had moved the Bombay High Court in 2012 against the pollution of the Godavari, pressing for stricter norms before the Maha Kumbh Mela at Nashik.
The administration claims recent studies show that the BOD in the water has come down to below 10 in certain areas which is fit for human consumption.
The Bombay High Court had asked for the police to man the banks and ensure it isn't used for purposes other than bathing and asked the municipal corporation to put up boards stating that the water was unfit for consumption.
The municipal body is also grappling with the challenge of cleaning the river of materials that devotees empty into it. "No one is allowed to wash clothes in the river but even though we ask them not to, they don't listen. They also drop flowers and throw garbage in the river", said Ajay Ingole, a worker at the Nashik Municipal Corporation.
Over 8,000 people have been deployed by the municipal corporation to clean the city, toilets and the Godavari during the Kumbh.