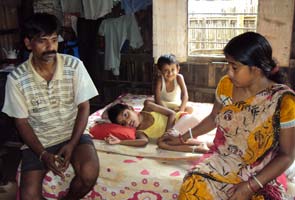 Agartala:
The family of Ayesha Gope, suffering from a rare congenital medical condition, says it is overwhelmed by the generous contributions for her treatment and has requested the donations to stop now. NDTV had reported the story last week. (
Read
)
The contributions have crossed Rs 14 lakh so far, and the group handling Ayesha's treatment says they now have sufficient money to get her treatment started. In case of a surplus, they plan to help other patients in the region who can't afford their medical bills.
Doctors at the Agartala Government Medical College have advised Ayesha's family to take her to the Christian Medical College in Vellore in Tamil Nadu, a treatment that is likely to cost them at least Rs 6 lakh.
Ayesha suffers from a rare congenital medical condition - Meningoencephalocele - that causes her brain matter to puff out from the cavity of the skull. The disease restricts the development of the skull, and accumulates fluid in it. It affects one in every 5000 newborn babies.
Ayesha's father Dilip Gope is a marginal sewing worker in Durganagar in Tripura and earns a few thousand rupees a month. Her mother Nisha works as a domestic help.
The seven year-old has been confined to a bed since she was born. Doctors said she is inching towards her death while her family remained helpless so far because of their limited means.