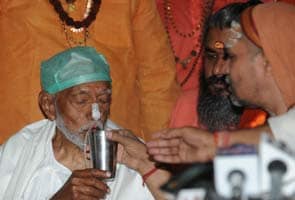 New Delhi:
An 80-year-old environmentalist who has been on a hunger strike since January 14 ended his fast on Friday. GD Agarwal was hospitalized in Delhi on Monday. He has been campaigning for years for a better government effort to clean up the Ganga.
"I will not have food, but will continue on liquid and water; will wait and see what's the outcome of the talks," he said today.
Senior ministers V Narayanasamy and Sriprakash Jaiswal met him at Delhi's AIIMS hospital earlier today, and agreed to most of his demands. Swami Agarwal, as he is known, has in the past worked as a scientist at IIT Kanpur.
"We have reached a consensus. The agenda as asked for by GD Agarwal and his group will be placed before the authority." Mr Jaiswal said.
He was brought to Delhi on Monday from Varanasi after his health deteriorated. He stopped drinking water on March 9. This was the fourth time that the 80-year-old professor had gone on a fast to raise awareness about India's national river. It was Professor Agarwal's earlier campaigns, which had forced the government to declare the Ganga as a national river and set up the national authority.
The Save Ganga activist has been unhappy with the ineffective functioning of the National Ganga River Basin Authority (NGRBA), a body set up by the central government for cleaning the Ganga. He has said the government has failed to check the dumping of urban and industrial waste in the river. Earlier this month, he was joined by four members of the NGRBA, who had resigned in protest over the panel's slow progress. The authority, headed by the Prime Minister hasn't met in nearly two years.
The activist is also opposed to the construction of dams and barrages on the Ganga; he says these will destroy the natural flow and quality of the river water.
Gandhian Anna Hazare wrote on Thursday to Prime Minister Manmohan Singh and urged him to address the points raised by Swami Agarwal.
India had launched the first Ganga action plan almost 27 years ago and has spent more than 1000 crore but with little to show for it. It now plans to spend 15000 crore by 2020.
The government may have won a reprieve, but a lot will depend on what happens on the meeting on April 17. 'Save Ganga' campaigners say that they are ready to hit the streets once again if things don't turn out the way they want.