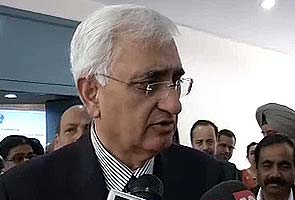 New Delhi:
External Affairs Minister Salman Khurshid begins his two-day day visit to Beijing today, four days after China and India simultaneously withdrew their troops from the face-off point at Daulat Beg Oldie near the Line of Actual Control (LAC) in Ladakh.
Sources say trade and border issues are expected to top the agenda of Mr Khurshid's meeting with his Chinese counterpart Wang Yi. The two ministers are likely to meet at 5 this evening to discuss bilateral, regional and global issues of concern to both sides. They will also discuss the proposed visit of Chinese Premier Li Keqiang, who is expected to be in India on May 20.
Sources also say a proposed Border Defence Cooperation Agreement, aimed at maintaining friendly contact between troops of the two countries, might also come up during the talks.
The 20-day border stand-off between India and China ended on May 5. Sources said the agreement was reached after intense diplomatic pressure, including the threat that India was willing to scale down its relations with its neighbour if the latter did not withdraw a platoon camped on Indian territory since April 15.
The two countries do trade of at least $90-100 billion (Rs 5,41,300 crore) a year.
The Chinese were reportedly also told that New Delhi might cancel Mr Khurshid's visit to Beijing, which could have cast a shadow on the visit of the Chinese Premier to New Delhi.