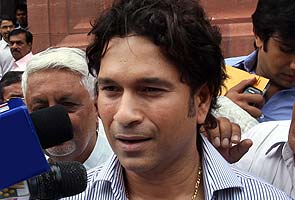 New Delhi:
Cricket icon and Rajya Sabha MP Sachin Tendulkar may not be able to attend the first half of the Budget session of Parliament due to his engagements in the on-going India Australia cricket series.
Rajya Sabha today granted him leave from February 21 to March 7.
Mr Tendulkar has not attended the House for a single day in the ongoing Budget session and only one week is left for the first half to conclude on March 22.
Deputy Chairman P J Kurien informed the members that Tendulkar had sought leave from February 21 to March 7 citing his engagement in the India-Australia test cricket series.
India-Australia Cricket series began on February 22 and will conclude on March 26.
Both Mr Tendulkar and Bollywood star Rekha, since their nomination to the Rajya Sabha, have not attended the House regularly.
As the Chair sought the permission of the House to grant Tendulkar leave, Naresh Agrawal (SP) said in a lighter vein "both of them hardly come to the House. Why not give both of them permanent leave" evoking peals of laughter.
Former External Affairs Minister S M Krishna, also sought leave to remain absent from the House from March 5 to March 22, which was granted.
Get Breaking news, live coverage, and Latest News from India and around the world on NDTV.com. Catch all the Live TV action on NDTV 24x7 and NDTV India. Like us on Facebook or follow us on Twitter and Instagram for latest news and live news updates.