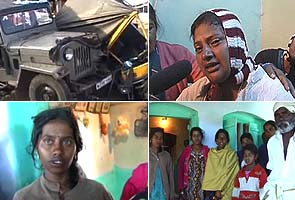 Ooty:
Two days after the stampede, the full scale of the Sabarimala tragedy is slowly unravelling. For so many families, that one fateful night has changed everything. (
Read: Sabarimala stampede - 102 pilgrims killed, 50 injured
) | (
See pictures
)
These lives are scarred forever. (
Read: List of stampede victims
)
It was a pilgrimage of thanksgiving for Raj Kumar who came here to express his gratitude for the healthy baby boy he was blessed with after losing his first child. But now, that eight-month-old son will never see his father again.
"He loved our child so much. He went only to fulfill the vow he had made for our child. He has died now," said Raj Kumar's wife R Mallika said. (
Read: PM announces relief for victims
)
In another part of Ooty, estate worker Murugesan's family is inconsolable. It was his 10th visit to the shrine, this time to ask for blessings for his daughter Priya's wedding.
"We have two daughters. One is married. For our younger daughter he wanted to start looking for an alliance soon," Murugan's wife M Indira said. (
Read & Watch: Kerala CM orders judicial probe
)
These are the faces of the tragedy that struck late last night. These are just some of the devastating stories of Sabarimala for whom the nightmare will never end. (
Read: The Sabarimala tragedy in 1999
)