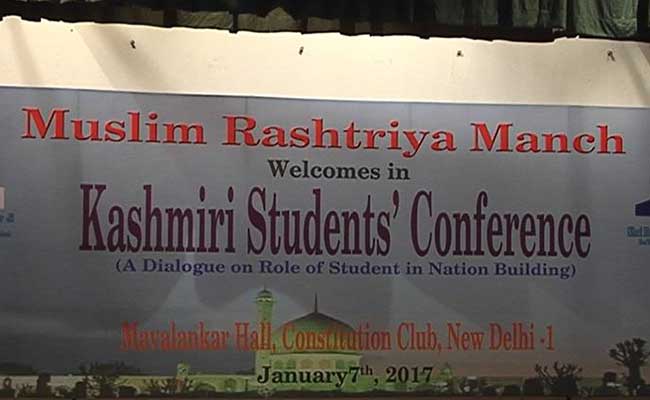 Over 1,000 Kashmiri students from 25 universities came together in Delhi for a "Kashmir Student's Conference" organised by the Muslim Rashtra Manch, an affiliate of the Rashtra Swayamsevak Sangh or RSS, in Delhi's Constitutional Club.
Billed as a 'Dialogue on Students' Role in nation building', the conference saw officials from a host of ministries like Home, HRD and Minority Affairs. They spoke on a number of issues -- ranging from special scholarships for students from the state under the All India Council for Technical Education, to Udaan, a special initiative of the National Skill Development Corporation which seeks to provide skills and job opportunities to about 40,000 Kashmiris over 5 years.
"It's not as if the government is not doing anything, but those responsible for implementing these schemes are the ones cutting corners," said ER Aijaz Hussain, the organiser of the conference and a member of the NGO Develop Kashmir.
"I have been to two to three places where the Udaan scheme is being implemented. There are some Kashmiri youth, but all they do is earn a meagre sum of 2,500 without learning many skills. The government should pay more attention to how these schemes are being implemented," said one of the participating students.
"We students face an identity crisis. I'm telling you that I am being harassed both in Delhi, where I study, and in Kashmir. These are the real problems the government must address," added another.
For a 24-year-old woman from Kulgam valley, who is studying at Galgotia's University in Delhi on a government scholarship, things are difficult despite the aid.
"We only get money to pay our tuition, which is around Rs 30,000. The rest, including housing and other expenses add up to around 60,000. We have to pay all this from our own pocket. So what's the point of giving us a scholarship," she questions.
The MRM also adopted a resolution during the conference to provide more scholarships to Kashmiri students as well as urge the Home Ministry to set up an advisory committee to oversee it.
"In the last two years, under the leadership of Shri Modi there have been a series of initiatives keeping students of regions like J&K in mind," said Jitendra Singh, Minister of State in Prime Minister's Office, who represented the Central government at the function.
The MRM Youth Wing Convenor Khurshid Rajaka told NDTV that it was the first time their demands were being placed before the government and they were hopeful that the government would pay heed.