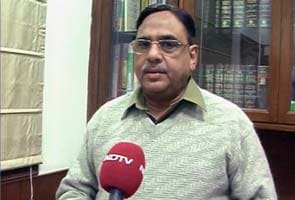 New Delhi:
Former CBI Director US Mishra's remark that it was usual for officers of the investigating agency to face political pressure while handling cases involving high-profile leaders has led to a major political backlash.
Speaking to NDTV on Thursday, Mr Mishra had said he had faced pressure in the disproportionate assets case against former Uttar Pradesh Chief Minister Mayawati. He added that it was possible that the CBI may have faced similar pressure in the case against Samajwadi Party Chief Mulayam Singh Yadav and his son Akhilesh.
(Read)
The Supreme Court on Thursday had directed the CBI to continue its probe against the Yadavs in the disproportionate assets case.
The Congress today alleged that Mr Mishra faced pressure from the NDA regime. Mr Mishra was the CBI Director from 2003 to 2005.
"Ask NDA about Mr Mishra's remarks. This happened during Atal Behari Vajpayee's government," Senior Congress leader Rajiv Shukla said today.
"We have always let the law take its own course," retorted BJP spokesperson Ravi Shankar Prasad.
Former Indian Police Service officer and social activist Kiran Bedi reiterated her demand for making CBI an independent body. She said, "Directors of CBI like Mr Mishra and Joginder Singh have already said that they always work under political pressure. But they said it at different times, they never became one voice. As you saw that civil society movement has been demanding this for many days that CBI should be free from political control so that they can work according to law."
Former CBI chief Joginder Singh too joined the demand to give the CBI constitutional status, but he added "Nobody will give the CBI the constitutional status because it doesn't suit the politicians."
RJD chief Lalu Prasad Yadav hit back at the remarks of the former CBI directors, saying, "If they succumbed to the pressure, they should have just left. Everybody has started pointing their fingers at politicians."