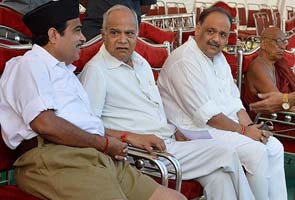 New Delhi:
The BJP is standing by its man. Cautiously. Party president Nitin Gadkari's business dealings are being investigated. And his colleagues are offering carefully-worded statements in his defence.
Yesterday, BJP veteran LK Advani said, "The allegations are about standards of business and not misuse of power or corruption." Despite that, he said, Mr Gadkari had "come clean asking for an inquiry by the Department of Company Affairs. It is a fair and proper response. This shows the difference in the BJP's attitude."
However, he stressed that it is important for the party and its leaders to meet exacting standards of probity.
The BJP has grabbed the recent burst of financial scandals to accuse the government of indefatigable corruption. The allegations that Mr Gadkari's firm, Purti Power and Sugar, had ghost investors, firms whose addresses don't check out, and whose directors have included his driver and an astrologer, threaten to asphyxiate his party's campaign.
Among the questions put recently to Mr Gadkari was whether there was a conflict of interest in Purti accepting investment and a generous loan from a company who got huge infrastructure construction deals when he was Maharashtra's Public Works Minister. Mr Gadkari said there wasn't. He also said the loan in question was being repaid with interest.
But the Corporate Affairs Ministry has initiated what its head, Veerappa Moily, has described as "a discreet inquiry" into companies that have invested in the BJP president's businesses. Sources said the initial inquiry will be conducted by the registrar of companies in Mumbai and Nagpur, where Mr Gadkari's Purti group of companies is registered, to verify if these investor companies have suppressed facts. If any evidence of wrongdoing is found, the sources said, the inquiry will be handed over to the Special Frauds Unit of the Ministry of Corporate Affairs.
Today, the BJP's Balbir Punj said, "When Robert Vadra is facing allegations, he ran away even from Facebook. Mr Gadkari is going from studio to studio answering questions." Mr Vadra is a businessman and the son-in-law of Congress president Sonia Gandhi. He has been accused by activist-turned-politician Arvind Kejriwal of corruption. Mr Kejriwal claims that India's biggest real estate company, DLF, gave Mr Vadra interest-free loans and under-priced apartments in exchange fr Mr Vadra flexing his political connections to help DLF with sweetheart land deals in Haryana, where the Congress is in power.
Before an official statement combatted Mr Kejriwal's charges, Mr Vadra used his Facebook page to decry "mango men in a banana republic." "Mango men" was a literal translation of "aam aadmi" or "common man" - the votebank that Mr Kejriwal claims to represent. The outrage that followed Mr Vadra's Facebook post led to his exiting the social network.
The BJP's parent body, the Rashtriya Swayamsewak Sangh (RSS) has said it's up to the party to deal with the allegations against Mr Gadkari. But his second consecutive term as the BJP president now appears at risk. Just a few weeks ago, the BJP's constitution was amended, apparently stirring discontent among other senior leaders like Mr Advani and Sushma Swaraj, to extend Mr Gadkari's presidency.
RSS leader Dr Manmohan Vaidya said yesterday, "It seems like a media trial. The RSS is not in the picture. Let the BJP respond to it. We have not issued any ultimatum and have not sought any explanation. The fight against corruption will go on. Nothing will affect it."
A clearly shaken Mr Gadkari, who attended the RSS' Dussehra function in Nagpur in full sangh uniform of black cap, white shirt and khaki shorts, refused to speak yesterday. Today, he cancelled a trip to Delhi.