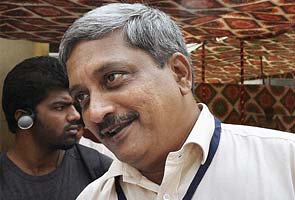 Panaji:
Goa Chief Minister Manohar Parrikar on Monday called the Right to Education (RTE) Act as Union Minister Kapil Sibal's "absolutely foolish policy".
"RTE Act is Kapil Sibal's absolutely foolish policy. There are certain parameters in the policy which are wrong," Mr Parrikar told reporters while objecting to the RTE Act's no-detention clause.
"The idea of no-detention is good, but there should be good parameters to implement it. After RTE, studying has become a farce," he said, referring to the huge number of students who reach class IX automatically, because RTE Act's "no-detention" policy gives them unhindered right to be promoted.
"Students don't appear for examinations. They tell teachers that they are not bothered to appear because they know that they are going to pass," said the Chief Minister, who also holds the education portfolio in Goa government.
"I am not against promoting students, but priority must be to give them proper education," he said.
The state education department was caught up in a situation where 6,500 more students passed the Secondary School Certificate (SSC) examination this year, straining admissions in higher secondary schools across the state, he said.
This year, 18,000 students passed, as against 11,500 students last year, he said adding, the state government will ensure that all students get admission to HSSC.
Get Breaking news, live coverage, and Latest News from India and around the world on NDTV.com. Catch all the Live TV action on NDTV 24x7 and NDTV India. Like us on Facebook or follow us on Twitter and Instagram for latest news and live news updates.