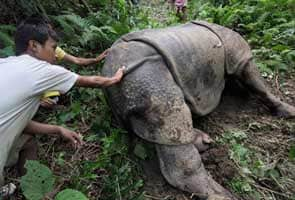 Kaziranga:
Since June floods devastated Assam, animals trying to escape the rising waters in Kaziranga National Park have fallen prey to hunters, poachers and speeding vehicles. More than 700 animals have died since then and more carcasses are being revealed as the waters go down.
But there's another threat, particularly to rhinos, that won't recede with the water. It is from the armed militant separatist outfits in the area.
The biggest clue to this came after the arrest of one Lindok Rongpi yesterday, who confessed before a magistrate that he poached six rhinos under the instructions of Songja Timung, self-styled defence secretary of Kuki National Liberation Front, one of the armed outfits from Karbianglong in Assam, now in a ceasefire agreement.
His arrest led the police to Dimapur in Nagaland, the hub of animal-parts trade, only to find that the main buyer, a Chinese named Ho-Chin had fled.
The money militants make by poaching rhinos, they use it to buy arms. Post-mortem of the animals reveal the use of automatic guns which further provides evidence of the involvement of militants, considering professional poachers use .303 rifles, rather than spraying bullets.
These threats are compounded by the way these animals are being poached. In a number of cases, wildlife officials found that the rhinos were dehorned even while alive. Shot by a gun, while a rhino recovered, the poacher would hack off the horn. In one case, even the ear was chopped off and the animal left to bleed to death. Here again the finger is being pointed at militants, mainly because of the kind of guns used. Bullets from automatic weapons have been recovered and one AK-56, two .303 rifles and one SBML gun have so far been seized by the police in the last two weeks.
There are several stark reminders of militancy targeting wildlife in Assam. In the eighties the Laukhowa sanctuary, not far from Kaziranga, was cleaned of its entire rhino population allegedly by United Liberation Front of Asom (ULFA). Manas lost its world heritage site status after Bodo militancy wiped out all animals including the rhino. With a horde of armed groups in Karbianglong and with evidence of militant involvement in the recent poaching cases, it is not unlikely that Kaziranga could be in similar danger.
The threat to the rhinos, and the value of their horns in the international market, has increased also due to the enhanced security measures in the other big source, South Africa. This coincides with a surge in demand for rhino horn in South Asia, where it is used as an aphrodisiac. A World Wildlife Fund (WWF) report clearly says that Kaziranga, with its 2,000 rhinos, is an area vulnerable for increased poaching. Its proximity to the international border makes it an even easier target.
Minister for Environment and Forests Jayanti Natarajan was in Kaziranga recently to announce monetary grants and measures but the initiative appeared too routine for any immediate action.
On October 19, the Principal Chief Conservator of Forests of Assam, clarifying a WWF press release provided the following rhino data:
There have been 12 poaching cases this year - Seven inside Kaziranga, four in Karbianglong and one in Nowgang. However, all these rhinos were from Kaziranga.
28 rhinos died by drowning, taking the total number of deaths to 40 this year.
Compare the recent data to the previous years and the number may not look alarming. On an average Assam has lost around 90 rhinos a year to various reasons which in itself is a shocking statistic. But losing 40 from a single park in ten months may be a new worrying record.