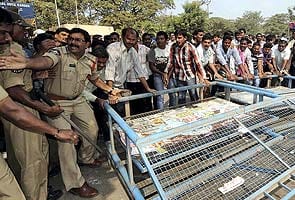 New Delhi:
With a decision on Telangana statehood deferred by the union government again, seven Lok Sabha members of the Congress will be in Delhi today to build pressure on their party. The members will be carrying resignation letters addressed to the Lok Sabha Speaker, which they are likely to hand over to Congress President Sonia Gandhi.
The government had last month promised a decision on Telangana by January 28, but on Sunday it asked for more time. Home Minister Sushil Kumar Shinde and Ghulam Nabi Azad, the Congress's Andhra Pradesh in-charge, said more consultations were needed with leaders.
Mr Shinde again said today that no date could be announced for a decision on Telangana. "The consultation process is still on," he said.
The deferment has put the Congress's pro-Telangana leaders in Andhra in a spot. They are being asked by activists in favour of statehood to resign or face a social boycott.
The Telangana Rashtra Samithi (TRS), which is leading the statehood agitation, has vowed to intensify its campaign. Its chief, K. Chandrasekhara Rao, hinted at joining hands with any non-Congress alliance to push the statehood goal.
A court in Andhra Pradesh has, meanwhile, ordered filing of cases against Finance Minister P Chidambaram and Mr Shinde on a complaint that they cheated the people of Telangana by backtracking on the statehood promise.
The Telangana agitation has kept Andhra Pradesh in turmoil for over three years, since December 2009 when the TRS chief's 11-day hunger-strike fuelled an aggressive campaign, and then home minister P Chidambaram made a surprise announcement that the government had agreed to a Telangana state.
As leaders from the two other Andhra regions - Rayalaseema and coastal Andhra - protested, the government set up the BN Srikrishna panel in 2010 to find a solution. The committee has offered several options in its report, but a final decision is awaited.
The union government has been accused of slow-pedalling the Telangana issue out of apprehensions of its political fallout in Andhra Pradesh, where the Congress is in power.
Andhra, which sends 42 members to the Lok Sabha, is one of the key states for the Congress as it looks to get fighting fit for the 2014 general elections. Seventeen of the 42 seats are in the Telangana region. In the 2009 elections, a big chunk in the Congress's tally (33 seats) was from Andhra.
While the BJP is in favour of statehood for Telangana, the Congress has had to contend with differing voices from within on the issue.