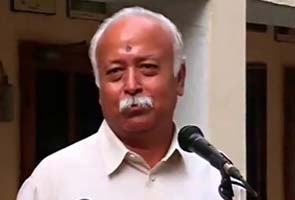 New Delhi:
In defiance of statistics, Mohan Bhagwat, chief of the right-wing RSS or Rashtriya Swayamsevak Sangh (RSS), believes that rapes are an urban crime shaped by westernisation, and are not a matter of concern in rural India where traditional values are upheld.
The RSS is the ideological mentor of the main opposition party, the BJP. Mr Bhagwat's remarks were shredded by activists and other political parties, but the BJP offered no criticism.
Describing the controversy as "uncalled for", the party's spokesperson said that Mr Bhagwat "was referring to India's
sanskar
, tradition and value system where respect for women occupies a pride of place."
In Assam yesterday, Mr Bhagwat said, "Crimes against women happening in urban India are shameful. It is a dangerous trend. But such crimes won't happen in
'Bharat
' or the rural areas of the country. You go to villages and forests of the country and there will be no such incidents of gang-rape or sex crimes."
He added, "Where '
Bharat
' becomes 'India' with the influence of western culture, these type of incidents happen. The actual Indian values and culture should be established at every stratum of society where women are treated as 'mother'."
"Mohan Bhagwat doesn't know either India or
Bharat
," said Brinda Karat, a CPM politburo member. "The largest number of rapes occur in rural areas on Dalits, tribals and rural workers. Such statements give confidence to criminals."
(Read: Who said what)
Mr Bhagwat's comments come at a time when the death of a young medical student, who was gang-raped in Delhi, has impelled introspection on attitudes towards women in a country where a rape is reported nearly every 20 minutes.
But in Madhya Pradesh, a minister in the BJP government demonstrated the proclivity among politicians to blame women for the crimes against them. "One has to abide by certain moral limits. If you cross this limit, you will be punished, just like Sita was abducted by Ravana," said the minister, Kailash Vijayvargiya.
(Watch - Women who cross 'Lakshman rekha' invite trouble, says BJP minister)
In his case, the BJP said it did not agree with his remarks and ordered that they be withdrawn. The minister acquiesced.