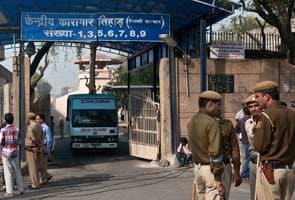 New Delhi:
Doctors at the All India Institute of Medical Sciences (AIIMS) have completed the autopsy of Delhi gang-rape accused
Ram Singh
who was found dead in his cell in Tihar Jail yesterday. Sources say the initial findings of the post-mortem suggest suicide. Police had found Ram Singh hanging in his cell in Jail No 3 Monday morning, and say that he killed himself.
Ram Singh's parents and the Metropolitan Magistrate investigating the case were present throughout the two-hour procedure conducted by a team of three doctors, which included the head of the forensic department. An official copy of the autopsy report will be handed over to the magistrate.
Meanwhile, Tihar Jail authorities have sent a report detailing the security arrangements that were in place for Ram Singh to the fast-track court that is trying the gang-rape case. The report will be examined by the court later today.
Ram Singh, accused of leading a gang of six that allegedly battered and fatally raped a medical student on a bus in Delhi last December, was killed, allege his parents and lawyer. They want the Central Bureau of Investigation (CBI) to determine how he died.
Jail authorities claim that the 35-year-old committed suicide by using his shirt and threads from his sleeping mat to construct a rope, which he then hung from a grille on the 10-foot-high ceiling by using a plastic bucket. But they are unable to explain how three cell-mates slept through the hanging in a tiny 12 by 12 feet room.
They also do not have answers for why or how a guard, posted round-the-clock near the cell because Ram Singh was thought to be suicidal, missed what happened. Though there are security cameras in this section of Tihar, none were positioned to film Ram Singh's cell.
Chief Minister Sheila Dikshit, to whom the Tihar Jail chief reports, said "Whatever happened was wrong. When the inquiry report comes up, appropriate action will be taken."
Yesterday, the four other men accused in the gang-rape and lodged in Tihar pleaded in court that they be shifted from there as they felt unsafe. The sixth suspect is a juvenile and is being tried and kept separately.
The heinous assault on the 23-year-old medical student triggered street protests, tough new anti-rape laws and a national debate about the lack of security for women across India.