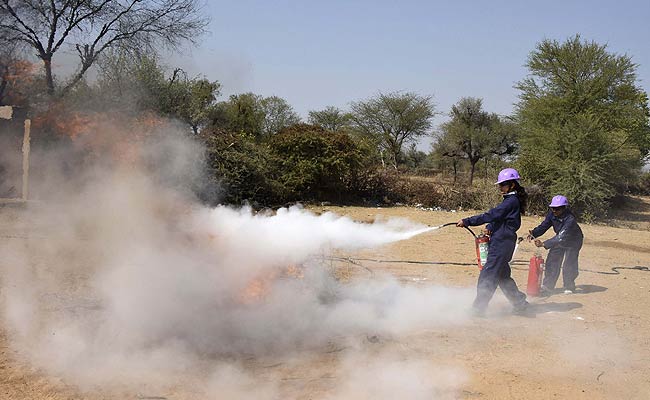 Jaipur:
Married before her 18th birthday, Nirma Chaudhary could have ended up like thousands of other child brides in Rajasthan - forced to quit school and consigned to a life as a wife and mother.

But her conviction to study after marriage, support from her family, and a government initiative aimed at empowering women, transformed her into one of Rajasthan's first female firefighters.
"I used to see firemen on television and in the newspapers. Everyone would say 'Girls can't do these jobs'. So I thought I have to show that I can do this," said Ms Chaudhary, 24, wearing a uniform of khaki shirt and trousers, as she sat on duty at Jaipur Nagar Nigam fire station.

Battling age-old patriarchal attitudes in her village, Ms Chaudhary is one of around 30 women recently recruited from Rajasthan's towns and villages as part of an affirmative action policy to encourage women to join the fire service.
The policy reserves 33 per cent of government jobs for women candidates and has helped increase the number of women in the police and administrative services, but it was not implemented in the fire service until last year.

India has some of the highest rates of early marriage in the world. About 47 per cent of women aged between 20 and 24 years said they were married before the age of 18, according to the latest National Family Health Survey.

Rajasthan - records higher than the national average, with 65.2 per cent of women being married off as child brides.
Ms Chaudhary, who is from a village 80 miles from Jaipur, said she was luckier than most girls in her village.


Despite being married at 17, her parents, husband and in-laws supported her wish to study further, take a degree in education, and become a firefighter after seeing an advert calling for women to join the state's fire service.
After a six-month training course in firefighting, she joined Jaipur Nagar Nigam fire station in March last year and has since tackled dozens of blazes from gas cylinder blasts in homes to factory fires.
Living in a small rented room in Jaipur with another female firefighter, Ms Chaudhary visits her family once a week on her day off with a three-hour bus ride back to her village.
© Thomson Reuters 2015