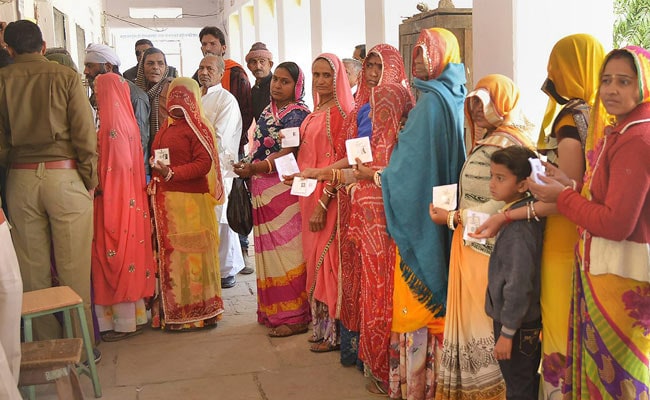 The Congress is leading in two crucial parliament seats, Alwar and Ajmer, for which bye-elections were held in Rajasthan. Both seats were held by the BJP. The BJP is leading in the Mandalgarh assembly seat. Two Rajasthan Lok Sabha constituencies and one Assembly constituency went to the polls on Monday, January 29. Simultaneously, the Lok Sabha constituency of Uluberia and the Assembly constituency of Noapara - both of which are in West Bengal also went to polls on Monday. Mamata Banerjee's Trinamool Congress is ahead in by-elections to the parliamentary seat of Uluberia, which it held, and also in the Noapara assembly seat, held by the Congress
In Rajasthan these elections are seen to test of the popularity of the BJP government, which hopes to win a second straight term in assembly elections later this year. The by-elections were held four days after the release of controversial Bollywood film "Padmaavat" and the Rajputs, nearly two lakh voters in Ajmer, had declared that they will vote against the BJP. The Congress hopes an anti-incumbency sentiment and the anger of the Rajputs against the ruling party will help it win all three - the Alwar and Ajmer Lok Sabha seats and the Mandalgarh assembly seat. All three are BJP seats. They fell vacant due to the death last year of the BJP lawmakers who held them. The counting of all the three seats have begun.
Here are the Highlights of the By-Poll results:
Rahul Gandhi congratulates Congress, calls bypoll results "rejection of BJP by Rajasthan"
After the Congress' win in Rajasthan bypolls, which came a s a huge blow to the BJP, Congress President Rahul Gandhi congratulated party workers on Twitter and said that this was a clear "rejection of the BJP by the people of Rajasthan."
Well done Rajasthan Congress! Proud of each and every one of you. This is a rejection of the BJP by the people of Rajasthan.#RajasthanByPolls

- Office of RG (@OfficeOfRG) February 1, 2018