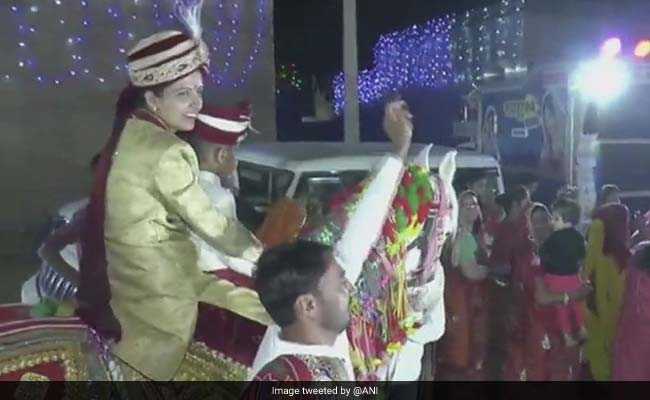 Nawalgarh:
In Rajasthan - infamous for its skewed child sex ratio - a bride in a rare gesture rode a horse to mark a pre-wedding ritual and send out a message for gender equality.
Interestingly, Neha Khichar, the bride, is an IIT graduate. It turned out to be an unusual sight for the people of Nawalgarh in Jhunjhunu district when Neha's family made her do a pre-wedding ritual of 'Bandori' and locals saw her riding a horse.
Neha is working as an officer with Indian Oil at Mathura refinery. "My family wants to send a message that one should never differentiate between daughters and sons and should provide them with equal opportunities," she told ANI.
Men and women are equal, Neha's sister also stressed. "With this initiative, we want to convey the message that girls and boys should not be differentiated. Like a groom is made to sit on a horse for Bandori, we are making the bride do the ritual," said Neha's sister to ANI.
Last year, another bride broke with the tradition in Jaipur in a similar manner. Leela Meghwal, a Dalit bride, rode to her wedding on a horse under police protection after receiving threats from another community. "The bride's family members had lodged a complaint that some influential people of upper caste had warned them against carrying out the bride's procession on a mare," the Station head officer of the Khinwara police station, Rajuram Seervi, told PTI at the time.
According to the Census 2011, the child sex ratio in Rajasthan was recorded at 888 lesser than national average of 919. While the male literacy rate was recorded at 79.19 per cent, the female literacy rate was recorded at 52.12 percent.
(With inputs from ANI )