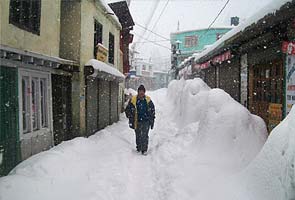 New Delhi:
Extreme weather conditions persisted in North India on Wednesday as moderate to heavy showers continued to lash various parts of the region after a day of record-breaking rainfall.
In Himachal Pradesh, that is witnessing heavy snowfall for the past few days, five persons went missing on Wednesday while three others were injured when an avalanche hit some houses in Kafnu village of Kinnaur district.
The missing persons, however, were later rescued by the administration this evening, Deputy Commissioner J M Pathania said.
The higher reaches in the state and mid hills, including capital Shimla are experiencing intermittent heavy snowfall since last night and various parts of the town recorded 15 to 30 cm of snow till this morning.
The Chief Minister Virbhadra Singh chaired an emergency meeting in the capital to review the situation.
Delhi, which witnessed a record-breaking rainfall on Tuesday, heaved a sigh of relief as the weather in the national capital remained mainly clear on Wednesday.
The minimum temperature in the city settled seven notches above normal at 15.4 degrees Celsius, Met officials said.
The weatherman forecasts a clear sky for Thursday, with shallow fog in the morning.
Kashmir Valley, however, reeled under cold wave, with the night temperatures dropping by several notches in many parts of the state after two days of rains and snowfall.
Capital Srinagar recording 9.6 mm of rainfall during the night, while the gateway town of Qazigund in south Kashmir received a rainfall of 29.2 mm, Met officials said.
While temperature in the summer capital dropped by over two notches to settle at a low of minus 1.3 degrees, mercury in Gulmarg plummeted by around eight notches to register a low of minus 13.0 degrees.
In north Kashmir's Kupwara town, which recorded 19.1 mm of rainfall, the minimum settled four degrees down at minus 3.7 degrees Celsius.
Rains and hailstorm continued to lash the hill state of Uttarakhand for the third day on Wednesday amid a marginal rise in temperature at most places.
Capital Dehradun received the maximum of 9.8 millimetres of rain, followed by Mukteshwar 5.4, Tehri 1.4 and Pantnagar 1.4 mm rainfall, Met officials said.
Mukteshwar was the coldest place in the state a minimum of 2.8 degrees Celsius, the weathermen said.
Normal life remained affected in Punjab and Haryana as moderate to heavy rainfall continued to lash the region.
Karnal in Haryana received the maximum rainfall of 39.2 mm in the region, followed by Patiala in Punjab with 22.3 mm and Ambala in Haryana with 17.3 mm.
In Punjab, Amritsar and Ludhiana witnessed rainfall of 10.1 and 10 mm respectively, Met officials said.
The temperature, however, settled above normal in most parts of the region.
In Uttar Pradesh, moderate to heavy rainfall was reported from various parts of the state during past 24 hours.
Showers lashed Kanpur, which received 7 centimetres of rainfall, followed by Barabanki 6 cms ,Lucknow and Hapur 5 cms each, Barabanki and Saharanpur 4 cms each, Unnao and Muzaffarnagar 3 cms each and Gonda, Mau, Baghpat, Bijnore and Rampur districts 2 cms each.
Night temperatures rose in Varanasi and Jhansi divisions, while it dipped in Gorakhpur, Allahabad and Agra divisions.
Mercury, however, settled above normal in most parts of the state during the day, Met officials said.