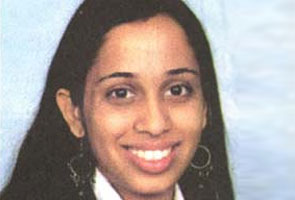 New Delhi:
Her parents, Nalini and Murugan, are convicts in the Rajiv Gandhi assassination case. But Harithra Murugan believes they are innocent. The 19-year-old has appealed to Sonia Gandhi and Tamil Nadu Chief Minister Jayalalithaa to help her.
"My childhood was awful. I was mad at my parents for doing this. But my father cried and explained to me what exactly happened. They write to me every week. They say they didn't do any mistake. My parents are innocent. They don't deserve this," she said in an emotional appeal to the Gandhi family.
"I feel extremely sorry for the incident. I went through the same thing for 20 years as Rahul and Priyanka. I hope they will understand my condition....I hope they don't give me the same pain that they went through. I thank Sonia Gandhi from the bottom of my heart," she added, while speaking to NDTV from London.
Murugan and Nalilni were sentenced to death in 1999, along with Santhan and Perarivalan.
After Nalini gave birth to a baby girl in jail, her death sentence was commuted to life at the request of Rajiv Gandhi's wife, Sonia, who is the Congress president.
Murugan, Santhan and Perarivalan were scheduled to be hanged on September 9. But earlier this week, the Madras High Court suspended their execution by eight weeks. Their mercy petitions, filed 11 years ago asking for their sentence to be commuted to life in prison, were rejected earlier this month by President Pratibha Patil.
The convicts have appealed to the High Court against this decision on the grounds that the President's office showed "an inordinate and inexplainable delay" in deciding their mercy petitions and so it violates Article 21 of the Constitution (Protection of life and personal liberty).
The Tamil Nadu Assembly has adopted a unanimous resolution urging President Patil to reconsider the mercy petitions. The resolution was moved by Chief Minister Jayalalithaa.