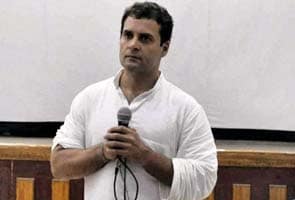 Allahabad:
Rahul Gandhi is trending high on Twitter today. Mainly for his comment in Allahabad that "poverty is just a state of mind."
The Congress's number 2 was participating in a discussion on Monday when he said, "Poverty is just a state of mind. It does not mean the scarcity of food, money or material things. If one possesses self-confidence, then one can overcome poverty."
As he is wont to do, he elucidated his argument with the example of a poor woman in his Lok Sabha constituency Amethi, who, he said, took control of her life, both financially and socially, by getting associated with a self-help group, the Rajiv Gandhi Mahila Vikas Pariyojana.
This once, the comment has drawn more attention than his story. And much criticism.
BJP spokesperson in Uttar Pradesh, Vijay Bahadur Pathak, said Mr Gandhi's statement was arrogant and "mocks the poor."
The BSP's Naseemuddin Siddiqui said, "He comes from a billionaire family and many generations in the Gandhi Nehru family have not seen poverty even from a distance. So they cannot be blamed for their poor knowledge."
On Twitter, @avinashbhat01 said, "If Poverty is a state of mind, So admit all poor people in Indian to mental hospitals, they will be cured to be rich!"
@Devinder_Sharma added, "Now Rahul Gandhi says poverty is a state of mind. I wish he was born in a poor family!!"
Mr Gandhi, along with his mother and Congress president Sonia Gandhi, is believed to be one of the champions of the Rs 1.25 lakh crore food security scheme of the ruling Congress, which aims to give cheap food to India's poor.
He frequently interacts with the poor in remote villages as he did on Monday too in and around Allahabad, assuring them that, "my one and only political aim is that I want to tune my ears to the voice of the poor and the marginalised."
That statement has, however, failed to trend.