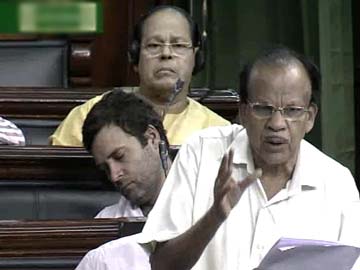 New Delhi:
The sparring between the new government and its predecessor Congress hit a new low today with the ruling BJP alleging that Rahul Gandhi was sleeping during a debate on price rise in Parliament.
"Rahul Gandhi was seen sleeping in Parliament during a debate on price rise. That's what the Congress was doing during their 10 yr rule," BJP leader Shahnawaz Hussain said, tweeting the image.
The Congress, forced to issue a denial at its press conference, called it "factually incorrect".
In footage from Lok Sabha at around 12:33 pm today, Mr Gandhi appeared to have nodded off, his head tilting to the right. He was also seen yawning.
Lok Sabha TV's camera was on the Congress leader as he was right behind the member who was speaking at the time, CPI-M's P Karunakaran.
Some reporters argued that his eyes were not shut; he may have been engrossed in something to his right.
As the image went viral on social media, Congress leader Rajiv Shukla said, "In my years in Parliament, I have seen many MPs take what they call catnaps. Sometimes people shut their eyes and listen to debate very carefully."
Referencing the BJP's tallest leader, former prime minister Atal Behari Vajpayee, Mr Shukla said, "Even Vajpayee used to keep his eyes closed while carefully listening to the debate at the same time."
The controversy has hit the Congress at a time many of its leaders have raised questions about the 44-year-old party vice president's leadership after the party's rout in the national election.
The Congress suffered the worst defeat in its history, winning just 44 seats - not enough, according to the BJP, to even qualify for the post of Leader of Opposition in the Lok Sabha.