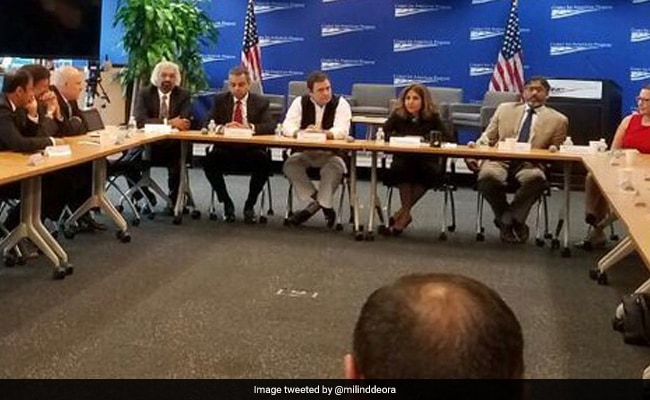 Washington:
Congress vice president Rahul Gandhi has said that intolerance and unemployment are the key issues that pose a serious challenge to India's national security and development.
Mr Gandhi, who is in the US on a two-week-long tour, held a series of meetings, including a roundtable with eminent Indian and South Asia experts hosted by the Center for American Progress (CAP), a Democratic-leaning think tank.
Prominent among the attendees were CAP head Neera Tandon, the former US Ambassador to India, Richard Verma, and Hillary Clinton's top campaign advisor John Podesta.
Lisa Curtis, who heads the South Asia division at the National Security Council of the White House held discussions with Mr Gandhi over a breakfast meeting during which the Trump administration official sought his views on the US-India relationship and the recently announced Afghanistan and South Asia policy of US President Donald Trump, according to the participants of the meeting.
US Chamber of Commerce president and CEO Thomas J Donohue met Mr Gandhi and other senior Congress leaders at an event hosted by the US India Business Council (USIBC). During the meeting, Mr Gandhi expressed concern over the inability of the government to create jobs in India, which he felt was leading the country towards a dangerous situation.
Mr Gandhi also had an off-the-record interaction with the editorial board of The Washington Post, wherein he shared his anguish over the rising intolerance globally, but particularly in India.
Later in the evening, Mr Gandhi had another closed-door meeting co-hosted by Republican strategist Puneet Ahluwalia and the American Foreign Policy Institute.
"I would say, he did not seem to be somebody who did not understand the issue. He has an understanding of the issue. He came across as more of a grassroot understanding leader. Everybody, when they left, were very positive with the interaction," Mr Ahluwalia said.
Mr Gandhi is also believed to have met the Virginia Governor Terry McAuliffe.
Participants of these meetings agreed with Mr Gandhi that the "central challenge" in front of India was jobs and intolerance.
"(People) said he is exactly opposite than what we were told. They said, he is logical, he thinks well, and he understands the issue," Sam Pitroda, who has been accompanying Gandhi to all of his meetings, said.
Mr Pitroda alleged that "full time staff hired by Rahul Gandhi's opponents have been creating a negative image about him."
Mr Pitroda said Rahul Gandhi believes in decentralisation. The real decision have to be made at the district level, he said.
Mr Gandhi is scheduled to address students of the Princeton University in New Jersey. Indian National Overseas Congress would host a reception for him in New York tomorrow.