New Delhi:
Highlights
Sarma quit Congress to join BJP last year, is master strategist
Warned Rahul Gandhi about Congress' collapse in Assam, says Sarma
Gandhi was preoccupied with dog, is arrogant, says Sarma
The Congress, which has been shredded in Assam, a state loyal to it for 15 consecutive years, should not be perturbed by today's result, said Himanta Biswa Sharma, alleging that when he warned Rahul Gandhi two years ago of how badly the party was imploding, the Congress boss responded blithely with a series of "So whats".
At that meeting, Mr Sarma said, Mr Gandhi seemed preoccupied with "playing with his dog instead of paying attention to the people surrounding him".
Last year, Mr Sarma abandoned the Congress to join the BJP; his widely acknowledged political chops as a strategist steered today's landmark win in Assam, which will become the first North Eastern state to be governed by the party.
Talking to NDTV, Mr Sarma said, "Today is a day of individual accomplishment for me too, because two years ago, I told Rahul Gandhi that if you go this way, Congress will not even cross (the) 25 mark."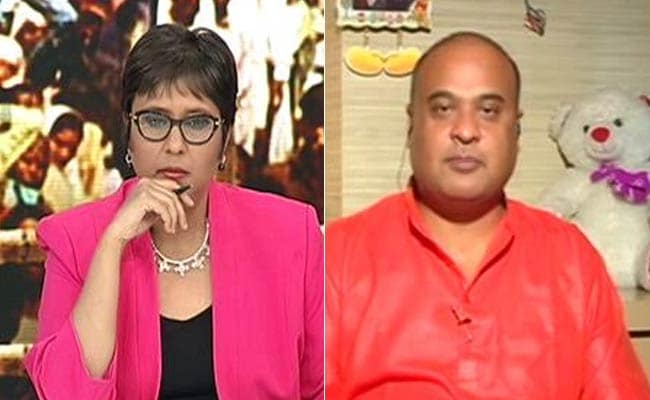 The Congress in fact scraped together just 26 of a possible 126 seats. The BJP and its allies won 86.
Mr Sarma said that the Congress, which was pulped in other states like Kerala and Bengal, must recognize that "it has no future even as a major opposition party" unless Mr Gandhi transforms. "He is very arrogant...when you go to see him, it is a servant-master relationship which is disgusting," Mr Sarma said. "Either he has to change, or the Congress has to change him," was his smouldering diagnosis.
For years, Mr Sarma served as the closest aide to Tarun Gogoi, whose ask for a fourth term as Chief Minister was crushed. Their estrangement was driven by Mr Gogoi's centre-piecing of his son, Gaurav.
Amid the election wreckage today, Congress leaders exhibited the party's famous affinity to its First Family, declaring that neither Mr Gandhi nor his mother and party president Sonia Gandhi, can be held accountable for the defeat.
In fact, party leaders like PC Chacko said, the Congress must continue with its plans to elevate Mr Gandhi to the No 1 slot.
Mr Sarma said that the working style of the BJP is a refreshing change from the top-heavy and disinterested approach of Mr Gandhi. The BJP government in Assam, he said, will prioritize the closing of the border with Bangladesh to check illegal immigration, an emotive issue with locals alleging that they have lost land and jobs to the outsiders.
Get the latest election news, live updates and election schedule for Lok Sabha Elections 2019 on ndtv.com/elections. Like us on Facebook or follow us on Twitter and Instagram for updates from each of the 543 parliamentary seats for the 2019 Indian general elections.