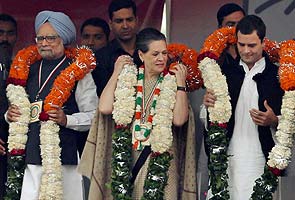 New Delhi:
The Congress today filled the massive Ramlila ground in Delhi to capacity and then made a well-knit presentation fielding its top three guns at what has been billed as "the party fights back." Rahul Gandhi not only made a rare appearance on the same stage as Congress president Sonia Gandhi and Prime Minister Manmohan Singh, but as today's first speaker, launched his party's mission 2014. Mr Gandhi is expected to formally take over any day now as the number 2 in the Congress and play the "bigger role" that he has promised to.
Both Mr Gandhi and his mother Sonia, emphatically endorsed the government their party leads and its policies. The Prime Minister talked economics and government imperatives. Together they built a case for the tough reform measures the government has taken recently, including the fuel price hike and decision to cap subsidy on cooking gas and particularly focused on explaining what they called the benefits of allowing foreign direct investment in retail, the contentious decision that saw Mamata Banerjee walk out of the government, plunging it into a minority.
About 100,000 people at the Ramlila ground heard Mr Gandhi make an impassioned speech cannily strewn with keywords like
aam aadmi
, corruption, Lokpal Bill, computers and liberalisation while listing the Congress' achievements. It was clearly designed in some ways to take over the debate on corruption being led by activist-politician Arvind Kejriwal, even as he countered the BJP's major points of attack.
"We will soon bring the Right to Food Bill in Parliament. We want to ensure everybody has access to food. We've raised Bhatta Parsaul - the issue of land acquisition from farmers and will continue to. We will pass the Lokpal Bill. You wait and watch," he promised, tearing into the opposition for what he called mud-slinging. "The biggest problem with India today is our political system. The people who run the system are busy mud-slinging at one another. No one is raising the fundamental questions. The voice of the aam aadmi is not reaching political echelons," he said.
(Read: We will pass Lokpal Bill, just wait and watch, says Rahul Gandhi)
And then in familiar Rahul Gandhi words, "Till the common man - youth from underprivileged backgrounds - come into politics, change cannot happen."
Speaking second, the PM sought to explain how the recent reform measures, tough as they were, would benefit the people. He spoke about the move to allow foreign direct investment in retail, saying it would bring more jobs for India's youth and slammed the opposition for "misleading the people". He also defended the recent fuel price hike. "Opposition has said that FDI will take jobs away from people, either they are trying to fool the people or are not aware about the benefits", he said.
(Read)
It was left to Congress President Sonia Gandhi to make an aggressive political attack on the party's opponents. She said, "They are mired in corruption charges themselves that is why they are making false allegations. They want to weaken the democratic edifice of this country, but we will not let them succeed. They lecture us on corruption but are corrupt themselves."
"
Jo durse ke liye gaddha khodta hai, uske liye kuan tayyar rehta hai
(those who dig pits to trip others, often ready wells for themselves to fall in)," she further added.
The rally was held weeks before the Winter Session of Parliament begins. Chief Ministers of all Congress-ruled states attended today's rally as did ministers and other leaders. The Ramlila ground was dotted with the Congress worker's trademark white Gandhi cap. Also conspicuous was the pink favoured by Congress workers from Haryana - pink turbans for men, pink saris for women - which they say indicates their "pro-FDI" stand. Minister of State Shashi Tharoor tweeted a picture of the crowd from the venue, also saying, "Mammoth crowd at Congress Mega Rally at RamLila Maidan. The Party fights back!"
The BJP reacted with senior leader ArunJaitley saying, "Congress rally is anti-people...We will oppose wrong policies of the government."
In battle gear, the Congress heads now into an internal brainstorming next weekend where top leaders will review the implementation of the party's manifesto next week. Sometime between now and then, sources say, Rahul Gandhi, 42, is to be conferred with the title of either Secretary General or less likely, Working President. Mr Gandhi is currently one of the party's several General Secretaries, whose role is to take charge of states and other functions for the party. As Secretary General, he would be their boss, formally.
Whatever the designation, Mr Gandhi will be number 2 in the party after his mother who is president. In that role he is expected to lead the Congress to the 2014 general elections. Congress spokesperson Janardhan Dwivedi said earlier this week, "Gandhi is number-2 in the party. His place is after the Congress President. It is not a hidden fact. There is no ambiguity about it. Prime Minister Manmohan Singh has said that he (Rahul) is the future leader. There is no shying away from it."