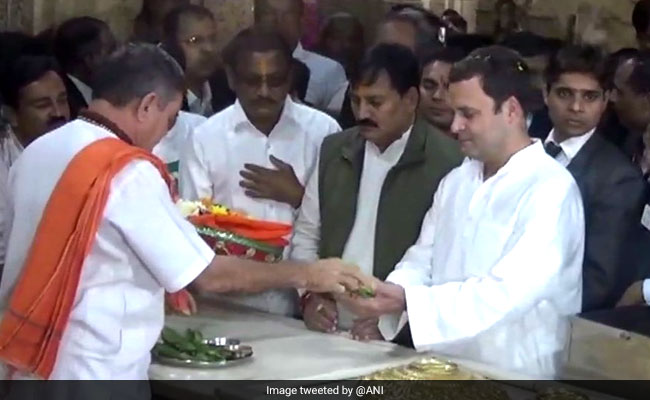 Ahmedabad:
Rahul Gandhi met Congress leaders in Gujarat, who have already begun analysing the election result, to review and get insight about the electoral outcome. Gujarat Congress organised a three-day conclave, which ends today, to study the poll results. During the 'chintan shivir' (introspection camp), Congress leaders and workers in Gujarat have analysed the district-wise election results and will discuss the road-map ahead with party chief Rahul Gandhi in view of the 2019 Lok Sabha election. In the elections, the results for which were declared on December 18, the Congress could not wrest power from the BJP even though its tally increased to 77 seats from 61 last time (2012). Rahul Gandhi, who campaigned extensively and aggressively in Gujarat for the Assembly elections, addressed a gathering after the 'chintan shivir' (introspection camp). Mr Gandhi will meet newly-elected MLAs as well as leaders from Gujarat's four zones -- north, south, central Gujarat, and Saurashtra -- separately for four hours in Ahmedabad today, before addressing the gathering of party workers in the evening. Rahul Gandhi will begin the day with a visit to Somnath Temple.
Here are the highlights from Rahul Gandhi's Gujarat visit to review the assembly election result:
Rahul Gandhi Gujarat Visit - Photographs Of Rahul Gandhi At The Somnath Temple
Here are some photographs of Congress president Rahul Gandhi offering prayers at the Somnath Temple in Gujarat. While campaigning in Gujarat before the 2017 assembly election, Rahul Gandhi had visited many temples in the state. When asked, he had said his family and he are "Shiv
bhakts
". His opponents had said that his visits to temples in Gujarat were a "political stunt" to garner votes. Mr Gandhi's visit to Gujarat today comes five days after the results for the assembly election were declared. Mr Gandhi chose to begin his day-long visit by offering prayers at the Somnath Temple.
(Rahul Gandhi Gujarat Visit: Congress president Rahul Gandhi began his day-long visit to Gujarat to review election results, by first offering prayers at the Somnath temple)


#InPics | Days after #GujaratResults, Rahul Gandhi offers prayers at Somnath Temple https://t.co/LZrNgtWixY#GujaratVerdict#ElectionResultspic.twitter.com/O4ckqGF8C7

- NDTV (@ndtv) December 23, 2017