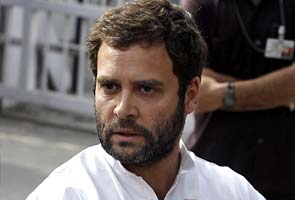 New Delhi:
Rahul Gandhi is in what is called the Congress war-room. A second session of stock-taking has begun as he analyses with partymen what went wrong in Uttar Pradesh, where despite his leading the Congress from the front, it fared very poorly in the assembly elections. Mr Gandhi reportedly wants to fix responsibility and wants to fix things in time for the Lok Sabha elections in 2014.
In the first session this morning, Mr Gandhi, wearing a beard and a white kurta-pyjama, arrived at the venue of his two-day meeting, close to the Rakabganj Gurudwara. He met with about 50 of the 153 Congress candidates who lost in the UP Assembly elections. These candidates polled over 20,000 votes -potentially candidates who could have won and Rahul Gandhi sought their views on where the party failed.
Many of these candidates, sources say, told Mr Gandhi that a weak party organisation at the grassroots level, damaging statements made by senior leaders, a lack of coordination with ministers from UP not considering requests of party workers and late distribution of tickets affected the party's chances.
There has been talk of heartburn from tickets being given to those considered "outsiders", people who switched to the Congress late in the day from other parties, and were favoured by senior leaders, but sources say that did not come up significantly in this first session, where many of those giving feedback were outsiders.
Mr Gandhi sought their views on a form that they had to fill - he asked them to answer 13 questions, among them were what they thought were the reasons for Congress losing, suggestions on future electoral strategy and how the party could fare better in local body elections. Party sources say some honest feedback was submitted.
Sampat Pal, a Congress candidate from Manikpur in Bundelkhand who got 23,000 votes but lost to BSP candidate Chandrabhan Patel, told NDTV that the local and district level leaders of the party were supposed to help, but did not.
The UP Congressmen, sources said, pointed out that while Rahul Gandhi's high-profile, high-energy campaign in UP worked to uproot the Mayawati-led BSP government, the Congress was unable to convert that into a transfer of support, and the Samajwadi Party cashed on it instead. Ironically, right across from the venue of the meeting is former UP chief Minister Mayawati's house.
In March, immediately after the serious loss of face as election results showed that the Congress had added but six seats to its tally in the state despite an exhaustive campaign by Mr Gandhi, he had appeared in public to accept responsibility and said that a weak organisational structure in the state had done the party in. "I know I campaigned and led from the front, it is my responsibility...Organisationally we are not where we should be in UP... The fundamentals of the Congress party in UP were weak. Unless we work on those fundamentals, we will remain weak," Mr Gandhi had said candidly.
Seven years of focused work in UP had come to naught and Mr Gandhi has his task cut out. Over the next two days he will also meet his 28 new MLAs, state leaders and others who were involved with electioneering in UP to analyse what went wrong and fix things in time for the Lok Sabha elections in 2014.
Partymen see significance in the fact that Digvijaya Singh, the senior general secretary who had charge of the UP elections, is out of town and so will not be a part of the UP analysis. The stock-taking was to have been held last week, but was rescheduled to begin today.
Party sources say the utterances of senior leaders have been cited by many as something that contributed to the Congress' debacle. The relative of a candidate who fought from an area dominated by the BJP, and did not want to be named, said, "You can't fool the electorate. With so many leaders making controversial statements from quotas to President's Rule, the impression was that the Congress is trying to please just one section for political gains and that went against us."
Senior ministers like Salman Khurshid, Beni Prasad Verma were among those who made several controversial statements. Squabbles within the party at high levels had also hurt, said some of the feedback. Sampat Pal said senior party leaders, including union ministers, speaking in different voices hurt the party's prospects.
Rahul Gandhi had pulled out all stops in UP this time. Building on the hope handed out by a very good showing in the Lok Sabha elections in 2009, when the Congress got 22 of UP's 80 Parliamentary seats, Mr Gandhi had led a much-hyped, star-studded Congress campaign armed with what the party believed was a winning strategy. It failed to stir the people of UP, who were drawn more to the fresh appeal of another young leader Akhilesh Yadav. His Samajwadi Party posted a spectacular win and the 38-year-old is now the youngest Chief Minister of the state.
In his first post-election analysis, Rahul Gandhi had admitted, "Generally there was a mood for SP, which is very apparent."