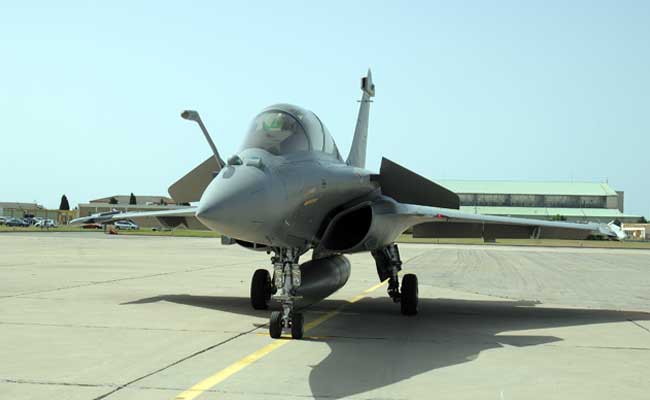 New Delhi:
The Narendra Modi government appears to be going ahead with the off-the shelf purchase of 36 Rafale fighters, which the Indian Air Force needs urgently. In the clearest indication of the government's intention so far, the Defence Acquisition Committee has asked the Defence Ministry negotiating team to proceed with end-stage negotiations, sources told NDTV.
Unofficial estimates indicate the deal for 36 jets could cost the exchequer $8 to $9 billion.
The move comes five months after Prime Minister Narendra Modi announced India's intention to acquire 36 Rafale fighters in an off-the-shelf deal with the government of France -- a deal he expected to conclude within a month or two.
Today's developments are a clear indicator that hurdles which existed towards the acquisition of the Rafale have now likely been removed. These were linked to India's mandatory offset requirements, under which 50% of the total value of the Rafale deal would need to be ploughed back into Indian industry.
Sources indicate that French negotiators had told the government that the process would substantially delay the acquisition of the fighters.
NDTV has learnt that the French government may now have indicated to the government of India its willingness to set up a third line to manufacture Rafale fighters in future. This, the French argue, will go towards meeting its mandatory offset requirements in the deal in the future.
NDTV has also learnt that the French Defence Minister Jean-Yves Le Drian was expected to be in New Delhi today. But he has delayed his visit to this country, pending the progress on the Rafale deal, on the advice of the Government of India.
The Indian Air Force requires the Rafale fighters to fulfill a long pending requirement to step up its squadron strength, which has been depleted over the years by having to retire older generation aircraft.
The IAF also believes that the Rafale gives it a capability to strike ground targets and air targets in complex futuristic battles.
The government's decision to acquire 36 Rafale came after it scrapped the Medium Multirole Combat Aircraft tender to acquire 126 fighters, most of which were to be built in India by Hindustan Aeronautics.
With differences over transfer of technology and overall cost issues continuing for years, the government decided to proceed with a smaller direct purchase from France -- something that may now be officially announced very soon barring any eleventh-hour setback.