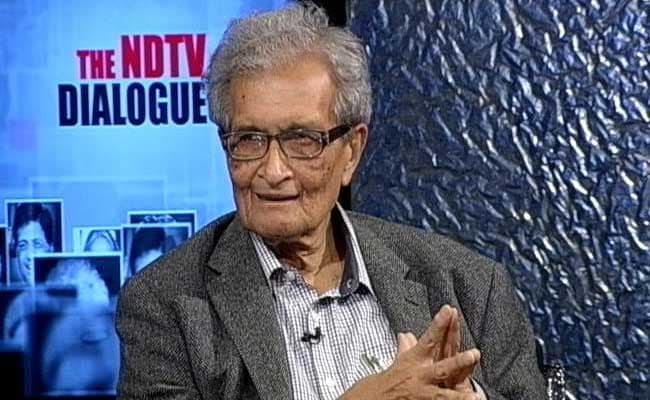 New Delhi:
While accepting Niti Aayog boss Rajiv Kumar's challenge, Nobel Laureate Amartya Sen intensified his argument regarding India's "quantum leap backwards since 2014". On the NDTV Dialogues, a fiery Sen added that the "leap is in the direction of social exclusion".
Reacting to union minister Jayant Sinha's garlanding of seven men convicted of killing a meat trader in the name of cow protection, Professor Sen said, "Mobocracy, lynching, making people live in fear, whether you're a minority or majority, is terrible, whether or not it affects the economy."
Mr Kumar was quick to retort. "Why don't we talk about mobocracy in Bengal? It prevented elections from taking place at the local level".
Professor Sen explained that "the present government has worsened the very unfortunate things that were happening and which needed remedy. There were some remedies but it seems we have taken a leap in the direction of exclusion".
Mr Kumar argued the India has "never had the kind of macro ability that we have today along with growth and with inclusion".
While sparring over demonetisation and its impact, Mr Kumar called those who criticised demonetisation as "representatives of the corrupt rich".
Professor Sen, however, maintained his stand, and termed demonetisation as a "despotic act", "a daft and silly economic move".
When prodded over his remark regarding economists who come from foreign universities, referring to Raghuram Rajan and Arvind Panagariya, the Niti Aayog chief said, "I do feel we have suffered a lot by looking at the Indian reality through Anglo-American lenses. And the fact that we've used those paradigms to judge ourselves."
While speaking at the launch of the Hindi edition of his book, "An Uncertain Glory: India and its Contradictions", Professor Sen had said that due to moving backward the country is now the second worst in the region.
"I wish Professor Amartya Sen would spend some time within India", Mr Kumar had told Press Trust of India in an interview. "I actually would like to challenge him to show me another period of four years where so much work has been done," he said.