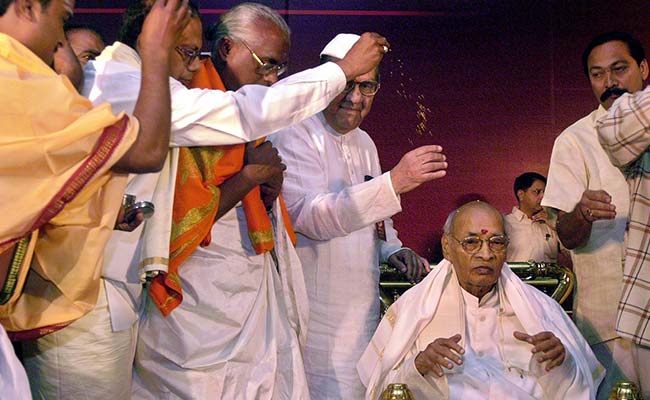 Hyderabad:
As India marks 25 years of economic reforms initiated by PV Narasimha Rao, his grandson NV Subhash rued that the Congress has not "acknowledged" his contribution, but debunked suggestions that the former prime minister had a frosty relationship with Sonia Gandhi.
Finding fault with the perception in some quarters that Mr Rao did not get along well with Mrs Gandhi when he was at the helm of affairs, Mr Subhash said the two had a very good relationship.
Mr Subhash said Mr Rao always met Mrs Gandhi before and after Cabinet meetings, consulted her on Cabinet expansions and foreign trips and also held discussions with her on "candidates of her choice" ahead of elections.
"What more a prime minister can do?" he told PTI, adding that the Gandhis were given SPG protection, government funds were released to the Rajiv Gandhi Foundation and Mr Rao took "good care" of the family.
"Many people thought if he (PV Narasimha Rao) continued for five years (as PM), people will forget about Nehru-Gandhi family. For their advantage, they have really corrupted her (Sonia Gandhi's) mind. I don't think he (PV Narasimha Rao) had any grudge against her. After all, her husband (Rajiv Gandhi) was his leader. Naturally, he has to give some respect," Mr Subhash said.
He also said this generation now is enjoying fruits of liberalisation, the seeds of which were sown in 1991, with the country making rapid economic strides, and it goes to Mr Rao's credit that successive governments, irrespective of parties, followed the reforms path he embarked on, with basic structure of the policy intact.
"It should be really acknowledged, whichever party is there. In other countries, people acknowledge their leaders. Unfortunately here, Congress government neither reciprocated, nor acknowledged. That's the saddest part. He hasn't been given any due. That's why I joined the BJP just before the elections in 2014," Mr Subhash said.
He said he met Sonia Gandhi soon after PV Narasimha Rao's death and made a request for setting up a Trust named after him, for which she promised all support, and he followed it up a month later.
"She was very, very concerned (keen to support the proposal). She explained she had a good relation with him (PV Narasimha Rao) and how her husband (Rajiv Gandhi) was close to him and how she was close to him," Mr Subhash said.
But he said after the two meetings, Sonia Gandhi never gave appointment to him, adding, "some people may have corrupted her mind".
"That's very, very unfortunate. May be other forces around her took control," Mr Subhash said.
He said Mr Rao deserved to be conferred with the Bharat Ratna.
The governments of Andhra Pradesh and Telangana have sent a proposal in this regard to the Centre, he said, expressing hope that the country's highest civilian honour would be bestowed on his grandfather in future.