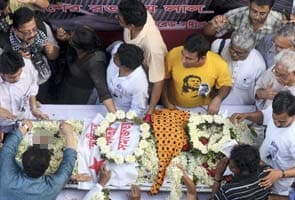 Kolkata:
A young man has quit the student wing of the Trinamool Congress (TMC) after he was reprimanded for a Facebook post on Sudipto Gupta, a student activist, whose death earlier this week triggered massive protests in Kolkata.
On Wednesday, Suvajit Das, age 24, posted "Stop This Politics" along with a newspaper clipping. The clipping showed a photo of Chief Minister Mamata Banerjee at the opening ceremony of the Indian Premier League in Kolkata on the day that Sudipto died. Next to it was a photo of Sudipto's weeping sister. The newspaper story was titled "Two Sisters"- Ms Banerjee is called "Didi" or "sister" by her party workers.
How Sudipto died is a subject of intense debate; the State Human Rights Commission is investigating the case, the Kolkata police's Detective Department is also looking into it.
But Ms Banerjee has already declared the death an accident, and has shockingly described it as "a small and petty matter."
Sudipto, a member of the CPI(M)'s student wing, SFI, was arrested while protesting with other activists against Ms Banerjee's government for delaying college elections.
Sudipto's colleagues say he was beaten mercilessly on his head.
The police says that while the students were being taken to prison, Sudipto fell out of a bus, hit his head on a lamp-post and died hours later in hospital.
Mr Suvajit Das says, "Though I didn't know Sudipto, I wept for him. I personally felt what happened was wrong and that it should be protested. That is why I resigned in protest." He also admits he is afraid of reprisal, now that he has quit.
Trinamool leaders say Mr Das' resignation is irrelevant, and that he was asked to quit two months ago for Facebook posts against the party.
CPM leader Surya Kanta Mitra said, "Even her own student union leaders have started deserting her (Ms Banerjee). It's a lesson for her. I don't think she will but she should take a lesson from it."