Highlights
Lawyer who attacked JNU student leader says it was his 'fundamental duty'
Surinder Tyagi says he was detained but 'pulled strings' to come to court
Group of lawyers today attacked JNU student leader Kanhaiya Kumar
New Delhi:
Among JNU student Kanhaiya Kumar's attackers in court on Wednesday was a lawyer who says he was detained but "pulled strings" to get away.
Surinder Tyagi brazenly declared that he was "exercising his fundamental duty" when he attacked the student.
Mr Kumar, who was arrested last week on sedition charges, was punched and kicked by a large group of lawyers while being led by policemen to a hearing at the Patiala House Court.
Many of the attackers later boasted to the police that their "job was done". Among them was Surinder Tyagi, who left his own case at a different court in the city when he heard that the JNU student's case would come up on Tuesday.
"I was only here to exercise my fundamental duty. If anyone wants to divide India, we will have to deal with them. All my colleagues from other courts who wanted to exercise their fundamental duty have come today," Mr Tyagi told NDTV.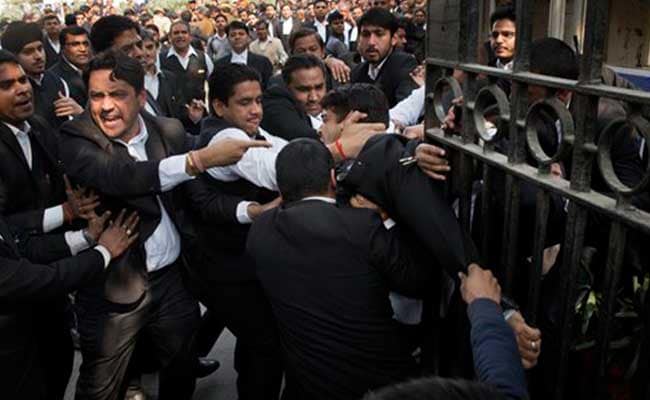 He admitted that he was detained in court after he hit Mr Kumar, "but I pulled some strings and managed to get out."
A large group of lawyers today virtually turned the court premises into a warzone as they shouted slogans, threw stones at the media and roughed up those who were not on their side.
The same lawyers pounced on Mr Kumar, who was charged with sedition for allegedly making anti-national comments at an event at JNU in support of terrorist Afzal Guru.
Three lawyers have been summoned by the police. Among them is Vikram Chauhan, who was also one of the main attackers in an assault on JNU teachers and students and journalists at the same court on Monday.
"Cops are doing their duty. If they call me I will go as well. But why are you talking about a hypothetical situation?" Mr Tyagi said.