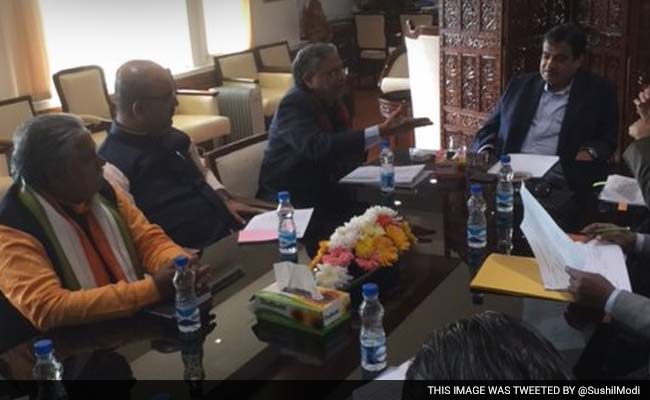 New Delhi:
In a bid to end uncertainty over the implementation of Rs 1.65 lakh crore package for Bihar, the Centre has said that it is being implemented as it is for the people of the state and not for any particular government.
The projects under the Bihar package are at different stages of implementation and they are being monitored on regular basis, it said.
At a meeting yesterday, Union Ministers including Suresh Prabhu (Railways), Dharmendra Pradhan (Oil & Gas) and Piyush Goyal (Power) assured BJP state representatives including Sushil Kumar Modi, Prem Kumar and Mangal Pandey on the issue.
The representatives met over half a dozen Union Ministers and asked them to monitor all these projects on monthly basis for speedy implementations.
"The Prime Minister had announced a package of Rs 1.65 lakh crore for Bihar. We are meeting with different Union Ministers to assess the progress over the announced package. All of them have assured that this package is for Bihar and not for a particular government," said Leader of Opposition, Bihar Legislative Council, Sushil Kumar Modi.
The BJP led National Democratic Alliance, which rules at the Centre, was unable to form the government in Bihar following the state elections, raising concerns in certain quarter over the package.
"There was a confusion that if the government will not change in Bihar then what would happen (to the package). All ministers told us that the Prime Minister has given package for the people of Bihar. We are implementing this package. It is at different stages in all ministries," said Mr Modi.
He further said, "Two mega bridges are being constructed on the Ganga river. One is at Digha-Sonepur rail-cum-road bridge in Patna and second such bridge is in Munger. Prabhu has told us that these bridges would be ready in a month's time and would be opened by February end."
Former Prime Minister Atal Bihari Vajpayee had laid foundation stone of these two bridges in 2003. But these could not be completed during the decade long UPA regime.