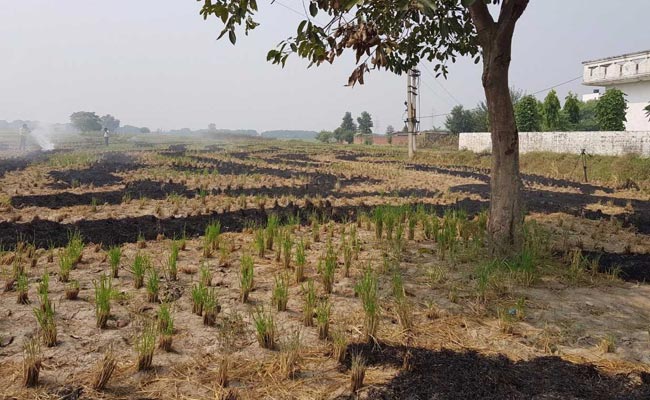 New Delhi:
The Green Court (NGT-National Green Tribunal) today directed the Punjab government to produce before it 21 farmers which it claimed to have helped by giving incentives and infrastructural facilities to prevent them from burning crop residue in a bid to check air pollution.
Over a hundred farmers had gathered outside the Green Court premises here today to attend the hearing on the issue and put forth their submissions and grievances through a lawyer before a bench headed by Green Court Chairperson Justice Swatanter Kumar.
The bench took exception to the fact that even after more than two years, nothing substantial has been done with regard to stubble burning.
It directed the Punjab government to produce the 21 farmers before it on October 13, after the state told the Green Court that it had provided assistance to them to encourage them not to burn crop residue.
"For two years, we waited for you (Punjab) to comply with our direction. We asked you to come up with an action plan for at least one district. What steps did you take in this regard? Can you produce a single farmer in entire Punjab before us, whom you can produce before us and say that you have given him any kind of assistance? This is not a political issue but this issue relates to the environment. You should think as a human being why this is taking so long," the bench, also comprising Justice RS Rathore, said.
During the proceedings, advocate IG Kapila, appearing for the farmers, referred to a newspaper report and said the National Thermal Power Corporation (NTPC) and a few biomass power units have expressed their intent to purchase crop residue from farmers in surrounding states.
He said the NTPC and representatives of other companies were willing to cut and buy crop residue from the fields. Mr Kapila, on behalf of the large number of farmers who had gathered outside the Green Court to attend the hearing, said the state government had not taken any concrete step to help the farmers.
Punjab government had earlier said that they have taken Kalar Majri village in Nabha Tehsil of Patiala district as a model project for implementing the directions of the Green Court and to sensitise the farmers.
While the farmers of Kalar Majri village, which has around 390 acres of land under the paddy crop, were yet to get machinery or financial assistance by the government, the neighbouring villages have started setting their fields on fire, a farmer said outside the courtroom.
On the last date of hearing, the Green Court had asked the state government to look into the problems faced by the farmers and directed its counsel to seek instructions whether compensation could be provided to them for disposing their agricultural residue while giving them liberty to engage any agency of their choice.
It had said the marginal farmers cannot be asked to take care of the environment by putting them under severe financial stress.
Earlier, the Green Court had warned the governments of Punjab, Haryana, Uttar Pradesh and Rajasthan that it would stop the payment of salaries of government officials if they failed to come up with an action plan to prevent stubble burning, which triggers heavy pollution in Delhi-NCR.
It had directed the governments of these states to show how the field staff of their concerned departments and the state pollution control boards were going to control pollution caused by crop residue burning.
The Green Court had also fixed the environment penalty amounts per incident of crop burning to be paid by small land owners having less than two acres of land at Rs 2,500, medium land owners holding over two acres and less than five acres at Rs 5,000 and those owning over five acres at Rs 15,000.
It had directed the state governments to take coercive and punitive action against persistent defaulters and asked them to withdraw the assistance provided to such farmers.
The Green Court had said the five states-Rajasthan, Uttar Pradesh, Punjab, Haryana and Delhi-which had issued notifications prohibiting agriculture crop residue burning, should ensure that these notifications were enforced rigorously and proper action was taken against the defaulters.
The Green Court's order had come on a plea by environmentalist Vikrant Tongad who had sought a ban on burning of agricultural waste and remnants in open fields.