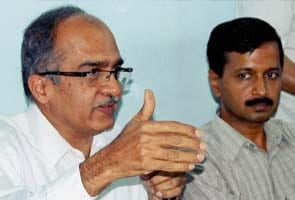 New Delhi:
After the Prime Minister promised to resign if "even an iota of truth" was found in the charges of corruption levelled against him by Team Anna, the activists have urged him once again to commission an independent investigation to determine whether allegations of a huge coal scam are correct.
"We have no grudges against the PM, we have the utmost respect for him," said Arvind Kejriwal, one of the main faces of Team Anna today. "If the allegations against him are proved wrong, we will be happy," he said.
In response, the Prime Minister's Office released this evening a detailed explanation on how coal fields were allocated from 2006-2009, when the PM had direct charge of the Coal Ministry.
(Read full statement)
Team Anna, the aides closest to Gandhian activist Anna Hazare, say that the Prime Minister appears to have over-ruled advice to auction coal fields; as a result, private companies paid far less than they should have, and the government lost 1.8 lakh crores, according to some estimates. The issue has been studied by the government's auditor and its draft report was leaked in March, after which Comptroller and Auditor General (CAG) Vinod Rai said the leaked portions were misleading.
Speaking to NDTV, Union Coal Minister Sriprakash Jaiswal said that there was no question of a probe into the allegations of Team Anna against the PM. "The nation benefitted with these coal block allocations. There is no question of an investigation," Mr Jaiswal said.
A note from the Prime Minister's Office states that "the allocation of coal blocks was never looked upon as a potential source for generating revenue for the Central Government. The government was committed to developing infrastructure and industry."
The PMO's note says that the proposal to auction coal fields was mooted in 2005. Over the next three years, different stake-holders including the state governments of Chhattisgarh, West Bengal and Rajasthan and the Ministry of Power were consulted. They were allegedly worried that switching to a bidding process or auction would increase the cost of coal and affect development and industry. While they were being persuaded, the allocation of coal fields could not be suspended - investment was needed in the coal sector to ensure an adequate supply for a surging economy and to prevent higher imports. The Prime Minister's Office stresses that the process of allocation was handled by a Screening Committee; ads were placed by the government to invite the maximum bids and to present equal opportunities to all interested players. In 2008, Parliament was presented with amended guidelines that focused on auctioning coal fields to the highest bidder.
The BJP has also called for an independent investigation into what's referred to as coal-gate, though it has earlier this week said that it does not support the language used by the activists against the PM. The party's Rajiv Pratap Rudy described Dr Manmohan Singh as "an honest PM, who heads a dishonest government." Mr Rudy added, "His ministers go to jail...he becomes a suspect, because of situations."
(Read)
The charges against the PM were first publicly announced by Team Anna members like Prashant Bhushan and Arvind Kejriwal on Saturday. They also accused 14 other senior ministers including Pranab Mukherjee of graft. They want the PM to sanction a Special Investigation Team (SIT) by July 24 to study their charges against him and other ministers. They have warned of an indefinite hunger strike if their request is not accepted.
Yesterday, the Prime Minister delivered an uncharacteristically aggressive rebuttal. "To use such words, which have been used without reason or rhyme, I think, the public in India should make up its mind whether this sort of politics will rule the roost in the country," he said to reporters on his flight back to Delhi from Myanmar.
Team Anna says that their complaints against ministers in the government deserve attention and a probe that will not be influenced by the government. "If any minister is corrupt, which agency will probe him?" asked Mr Kejriwal today. "If the minister denies it (graft), should the country just accept him at face value without any probe?" he added.
Today, the PM was urged by Justice Santosh Hegde, who has worked closely with Team Anna in the past, to allow an inquiry to prove his innocence. "I myself am finding it very difficult to believe that there could be any charge or allegation of corruption against Manmohan Singh. I am finding it extremely difficult to believe, but at the same time, the things are happening in this country in such a way that at least let him clear himself of this allegation. I think some enquiry should be conducted," he said.