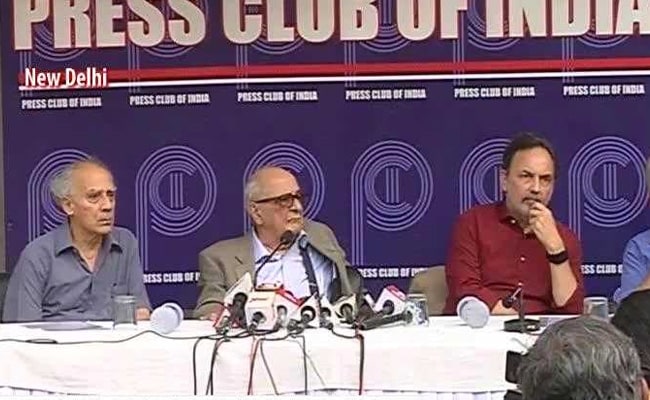 Senior Journalists on Friday unanimously condemned the recent raids by Central Bureau of Investigation (CBI) on NDTV premises. The raids were termed as an effort to pressurize the media.
In a show of collective strength, senior journalist like HK Dua, Kuldip Nayar stressed on the need to preserve freedom of press which they described as the strength of the Indian democracy. Addressing a large gathering of journalists at the Press of Club India in the national capital, noted jurist Fali S. Nariman stated that freedom of press is enshrined in the Constitution of India and condemned the manner in which CBI raided the offices of NDTV.
Taking a swipe at the Government, Nariman noted while freedom of the Press is guaranteed by the constitutions, but who "guarantees freedom after speech" is crucial.
Questioning as to why CBI was in haste to raid and not ask Sanjay Dutt to file a criminal case as it was a private complainant, he said, "This is undoubtedly an attack on freedom of press."
Veteran journalist and former union minister Arun Shourie expressed sorrow that the journalism fraternity has not "reacted as a community to the throttling of the free flow of information."
"Everyone who tried to raise their hand against the media had their hand burnt," he said in a strong word of caution to the Government which he said was 'totalitarian'.
Veteran journalist HK Dua recounted the days of the emergency when press freedom was curtailed and stated that the signs were not similar and unless something is done "the fate will be similar."
He lashed out at the Government for letting Vijay Mallya and Lalit Modi escape the country but NDTV is raided for a flimsy reason. "This is a warning to all others that if you don't fall in line you will face it."
Thanking the large turnout of journalists in support, Dr. Prannoy Roy of NDTV said the issue was not about NDTV but "a signal to all of us".
"They want to say we will fix you even if you are innocent. Fight it we must. It is a signal to the entire free press of India," he said.
He clarified that the fight was not against institutions but against politicians who he said can make "fire without a smoke."
Reiterating that neither he nor NDTV have been involved in any wrong doing, Dr. Roy committed to answer all charges in a transparent manner. "I can assure you we haven't touched black-money or bribed anyone," he said.
"We will answer every one of these false charges transparently. Please make it a time bound process and a deadline," he added.
Senior journalist and chairman India Today group Aroon Purie in a message also expressed solidarity and criticized efforts to intimidate the media.
Eminent journalist and chairman and publisher of The Hindu, N Ram in a message from London said "freedom of expression which has come under pressure must be safeguarded at all cost." The CBI he said had acted on "false private complaint by a discredited individual on matter going back nearly a decade is a crude attempt to suppress Indian news television most independent and trusted voice -NDTV"