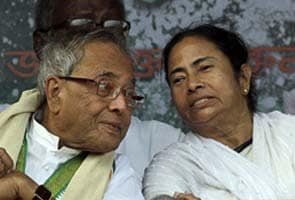 New Delhi:
With three days to go for the president poll, Pranab Mukherjee, the ruling UPA's candidate for President of India, has written to Mamata Banerjee seeking her support. Ms Banerjee's party, the Trinamool Congress, is the only UPA member which has opposed Mr Mukherjee's candidacy. (
Read the letter here
)
Ms Banerjee posted a copy of Mr Mukherjee's letter on her Facebook page stating that she received it today.
"The President stands above party politics. Given an opportunity, it shall be my endeavour to protect the values of this office: integrity, impartiality and the promotion of 'Sarva dharma sambhav' which constitute the essence and spirit of our Constitution," Mr Mukherjee wrote in the letter.
"If my election has any meaning, it is only as part of our common service to our motherland. It is in this spirit that I seek your valuable support in this election," he said, adding, he is honoured that UPA allies and other parties have considered him worthy for the post.
Ms Banerjee has been estranged from the UPA since last month, when she rejected then Finance Minister Pranab Mukherjee as the coalition's candidate. Ms Banerjee, not known to share the best personal equation with Pranab Mukherjee, a few weeks ago drew startled gasps when she embarrassed partner Congress by going public with a list of three names she proposed could be ideal candidates for President. Pranab Mukherjee was not on that list, but Prime Minister Manmohan Singh was. Mr Yadav, however, secretly struck a pact with the Congress to vote for Mr Mukherjee, leaving Ms Banerjee marginalised in a coalition that had grown accustomed to her calling the shots and over-ruling the majority opinion within the UPA on major policy issues.
After being declared the UPA candidate, Mr Mukherjee had appealed to Ms Banerjee to urge her party's MPs and state legislators to support him. He had also written to them directly. She has so far said only that she will make up her mind three days before the election, making Monday D-day.
The former Finance Minister had earlier also put the ball in Ms Banerjee's court, when he said, "I am ready to talk to her as and when she is ready to talk to me. Since my candidature was announced, I have expressed my desire to have the support of the partner of the UPA Trinamool Congress. I understand they have not yet taken their decision. They will take their decision at an appropriate time."
Pranab Mukherjee's opponent, former Lok Sabha Speaker PA Sangma, who aspires to be India's first tribal President, is the official candidate of the BJP-led NDA, minus the important JD(U) which has said it will support Mr Mukherjee, and regional parties like the AIADMK and the Biju Janata Dal. Together, these parties do not have the numbers in the electoral college to swing the election in Mr Sangma's favour - he currently stands to win about 30% of the vote in the election, scheduled for July 19. But Mr Sangma is confident that he will make a contest of it.