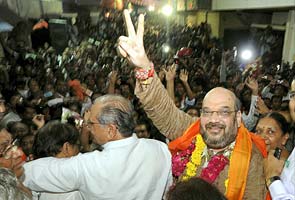 New Delhi:
In a relief to former Gujarat minister Amit Shah, the Supreme Court on Thursday stayed all proceedings against him before a court in Ahmedabad over the 2006 alleged staged shootout killing of Tulsiram Prajapati.
The apex court bench of Justice P Sathasivam and Justice Ranjan Gogoi, while ordering the stay on the proceedings, said that initially the bench had thought of referring the matter to the high court but decided to hear it as it involved interpretation of its own order handing over investigation to the Central Bureau of Investigation (CBI).
Senior counsel Mukul Rohtagi, appearing for Mr Shah, told the court that instead of filing a separate chargesheet the CBI could file a supplementary set of charges.
He said Gujarat Police had already filed a chargesheet in the case earlier.
The court issued notice to the CBI and directed the listing of the matter to November 23.
According to the CBI, Prajapti, suspected to be an aide of alleged gangster Sohrabuddin Sheikh, was killed by Gujarat Police in the state in 2006 after Sohrabuddin's staged shootout.
Mr Rohtagi told the court that the day the apex court transferred the investigation into the Prajapati case to the CBI, Gujarat Police filed a first information report (FIR) and a chargesheet in the Ahmedabad court.
The apex court on April 8, 2011 directed the CBI to take up the investigation into Prajapati's killing on December 28, 2006.
The CBI on September 29 filed the chargesheet in the Prajapati case in the CBI special court in Ahmedabad.
Mr Rohtagi told the court that Mr Shah, former minister of state for home, had already undergone three months' incarceration in the Sohrabuddin staged shootout case and was given bail by the high court.
If the Ahmedabad court took note of the CBI chargesheet in Prajapati case, Mr Shah may have to undergo incarceration again, he said.
The court was told that the CBI could file supplementary chargesheets in the Prajapati case as and when they keep collecting additional information.