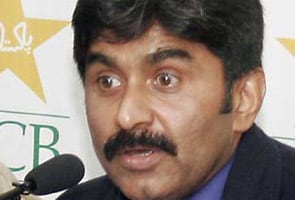 Mumbai:
Pakistan's 1992 World Cup-winning vice-captain, Javed Miandad believes India-Pak cricket is beyond politics and has called India Prime Minister Manmohan Singh's invitation to his counterpart Syed Yousuf Raza Gilani to watch the World Cup semi-final in Mohali, Aman ka chhakka (sixer of peace).
"This invitation will prove advantageous to cricket and give rise to friendly atmosphere between the two countries. There is a place for politics; there's a place for cricket. Among the people of both the countries, there are no tensions.
Hum alag nahin re sakte hain.
Despite tensions, India vs Pakistan cricket should continue. Tension is all over the world. Terrorism is all over the world and we must fight it," Miandad told MiD DAY over the phone from Karachi yesterday.
India and Pakistan clash in the World Cup semi-final at the Punjab Cricket Association Stadium in Mohali, near Chandigarh on Wednesday. "It's not a war. It is a cricket match between two teams. There will be a winner and a loser but we must use cricket to build relationship between two countries. Sport has always solved problems between India and Pakistan," said Miandad.
India and Pakistan have not played on their territory since July 2008 and bilateral series have taken a beating since the Mumbai terror attacks in November 2008.
"The higher authorities should realise the importance of cricket. Actors and sportspersons from both countries should meet each other more often. This will reduce tension and end all misunderstanding. When India came to Pakistan for that historic series in 2004, everyone went home with great memories,' Miandad added.
Twenty-five years ago, in Sharjah, Miandad hit medium-pacer Chetan Sharma for a six off the last ball to help Pakistan win the Australasia Cup on April 18, 1986.
That six changed India vs Pakistan cricket forever. He figured in six World Cups just like Sachin Tendulkar and featured in two India vs Pakistan World Cup battles " Sydney, 1992 and Bangalore, 1996.