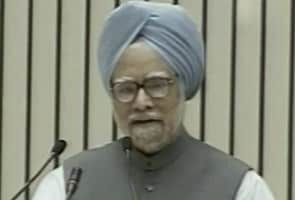 New Delhi:
The Prime Minister, Dr. Manmohan Singh addressed the Annual Conference of DGPs/IGPs in New Delhi today. Following is the text of the PM's speech on the occasion:
"I am very happy to once again address this annual gathering of heads of police organizations in India. Let me begin by congratulating those officers who have been awarded the President's Police Medal for distinguished service and meritorious service today.
The officers participating in this conference represent important years of accumulated wisdom and experience in matters relating to policing. This interaction is, therefore, a valuable opportunity to enhance our understanding of matters relating to our internal security and to build a consensus on what new strategies can be devised to meet the challenges facing us. Many useful ideas like the Police Mission, have emerged from this conference in the earlier years. Many have also been acted upon with good results.
Policing in our country has become increasingly complex over the years. Social tensions, religious disputes, growing economic disparities and regional, linguistic and ethnic differences have long been major challenges to effective policing in India. But of late the growing presence of non-state actors, fundamentalist groups & leftwing extremists has further complicated matters. The growing inter-linkages of the destabilizing and criminal forces, across states and across our borders, call for far greater vigilance and coordination between the security agencies than ever before.
Therefore, over the past decade, we have institutionalized deliberations and structured interactions at various levels. This conference has been a time-tested mechanism for enhanced coordination but given the changing circumstances I believe the time has perhaps come for it to reinvent itself. Perhaps this year onwards you could set for yourself some quantifiable goals to be achieved in the coming year. The actual achievement against these goals could be reviewed in the subsequent conference.
Ladies and gentlemen, I believe this conference should also pursue its agenda of making available the considered professional consensus on important police matters in a more focussed manner. I have been told that several countries have similar fora that continuously deliberate upon issues of police relevance and bring out papers on suggested best practices and standard operating procedures for various situations and purposes. In one of many earlier addresses to this very gathering, I had proposed the setting up of a Standing Committee of DGPs to provide policy inputs. I would like such a Standing Committee to begin work in right earnest.
After a relative lull in 2009, the challenges to our internal security seem to have re-emerged in more virulent forms. While we have made good progress in terms of recruitment and setting up of better institutional arrangements for intelligence, investigation, coastal security and counter-terrorism, the problems we face remain daunting. We need to do much more to meet the challenge of Naxalism. Training of our officers and men engaged in this theatre should particularly engage yours systematic attention. Here I would like to pay tribute to the officers and men of our security forces who have made the supreme sacrifice in fighting Naxalism and other anti-social elements.
I would also like to repeat what I said in my speech on independence day. We recognize that the Naxalites are our own people and are ready to talk to them provided they abjure the path of violence. We also stand committed to making special efforts to develop the areas affected by naxal violence, many of which are inhabitated predominantly by our tribal brothers and sisters.
Despite the curtailment of militant activities in Jammu & Kashmir, the public order dimension in the state has become a cause for serious concern. We need to revisit standard operating procedures and crowd control measures to deal with public agitations with non-lethal, yet effective and more focused measures. We also cannot have an approach of one size fits all. For instance, I understand that instead of a single standard sequence for the use of force, other countries have put in place procedures that vary according to the specific needs in different situations. Similarly, the experience begun successfully by the Rapid Action Force for non-lethal crowd control needs to be examined for being followed by other police forces as well. I hope these aspects would engage your attention. I would request the Hon'ble Home Minister to establish a high-power task force to come out with a set of recommendations on these issues in the next 2 / 3 months.
In the North East, the situation in general is better today than it was in the recent past, but some areas of concern still remain. In Manipur, for example the Naga-Metei divide has accentuated. The unfortunate growth of identity based assertiveness in the North East, particularly in Manipur and the North Cachar Hills needs well thought-out and sensitive handling. In other areas of the North-Eastern part of our country, we need to consolidate the gains of the past while at the same time ensuring that new problems do not arise and it can be controlled when they do. The situation in Darjeeling hill area also needs a careful watch. The writ of the State should be firmly established in all these areas. The State police and the central paramilitary forces should take firm action against those who take the law into their own hands.
We also need to be continuously remain vigilant against the rise of communal tensions.
Modern means of communications have enabled adversarial forces to mount powerful and convincing propaganda. Our response to this development needs to be improved. We have to challenge disinformation, often masquerading as objective third party expert opinion, not through suppression or in position of censorship, but by ensuring the availability of better and informed opinion to public at large. I look forward to your views on the steps that need to be taken in this area.
Over the past decade, the Central Government has sought to assist states in addressing their manpower requirements through financial support for India Reserve battalions, Special Police Officers, and the setting up of village defence committees. But, it appears that recruitment to the regular State police forces has not yet picked up as effectively as it should. Although effort has been made in the last two years to address this issue, the backlog remains pretty large. The quality of recruitment also remains an area of concern.
The Ministry of Home Affairs has already circulated a template for a transparent and objective recruitment process but most States are yet to adopt this.
Within the police forces, the current system of promotion is based essentially on seniority. It needs to be suitably recalibrated to catalyse better performance and motivation. For example, a successful stint in an extremism-affected district, should result in greater career benefits to the officers.
Procurement of equipment is another area where speed and quality remain areas of concern. We perhaps need to take a re-look at procurement procedures and examine ways of creating adequate testing capacities, coupled with databases of certified equipment, empanelled suppliers and benchmark prices. This if acted upon will save a lot of time and effort in procurement.
I am happy that both the Central and State Governments have taken steps to ensure greater inclusiveness in the police forces. The extent of reservation for appointment in Central paramilitary forces for candidates from areas affected by insurgency, militancy and naxalism was increased from 20% to 40% five years back. A number of States have also raised battalions from such areas. I think we need to take this further. This will reduce the feeling of alienation that might exist among the population in certain parts of our country.
We also need to build up capacities for gathering intelligence in various Indian languages. The intelligence agencies of the Centre and States could draw upon police persons and also incentivize officers to acquire and use relevant local language skills.
Significant improvement is called for in training of policemen and officers. The best officers are not posted to the police training institutes. The Thirteenth Finance Commission has provided significant funds to augment their training capabilities. These need to be utilized expeditiously. Only a highly trained and highly motivated police force can rise to the formidable internal security challenges that face the country.
I have touched upon only a few issues that I thought were really important. I am sure the conference would deliberate upon other key areas like modernization, research, forensic capabilities and raising of specialized forces. I wish this conference all success in its deliberations. I also wish the participants all the very best in their professional and personal lives."