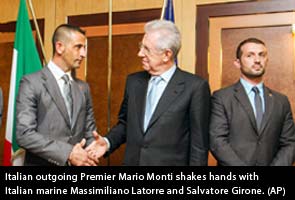 New Delhi:
The Prime Minister today warned that "there will be consequences" if Italy does not respect its commitment to the Supreme Court that two marines allowed to travel home will return to Delhi to face trial for shooting a pair of Indian fishermen. (
Read: PM's statement in Parliament
)
Amid reports that the government may retaliate by expelling him, the Italian ambassador Daniele Mancini asserted, "I will not leave this country till a competent authority makes me a persona non grata."
It was Mr Mancini who gave a undertaking in court last month that Massimiliano Latorre and Salvatore Girone would return by March 22.
On Monday, Italy stunned India by informing New Delhi that the marines, who were permitted to travel home to vote in the national election and celebrate Easter, would not be sent back.
The Prime Minister said in Parliament today that the decision "violates every rule of diplomatic discourse." He added that Italy must return the two accused. "If they do not keep their word, there will be consequences for our relations with Italy."
BJP leader Arun Jaitley said, "This now must be treated in the category of an enemy action, that you abduct a person, take him outside the jurisdiction of Indian and then say India can go to hell we are not concerned." (
Read: 'Forget diplomacy, this is enemy action', says Arun Jaitley
)
Famous lawyer Harish Salve has said he will no longer represent the marines, and described Italy's action as "a breach of faith". He also said the government should explore legal action against the Italian ambassador who may not be entitled to diplomatic immunity in this case. (
Read
)
"The reason why an affidavit is given - it means that you are acceding to the legal process, and makes it very difficult to claim diplomatic immunity," Mr Salve told NDTV.
Italy says that its decision is based on India ignoring its written offer for diplomatic negotiations. (
Read: Will search for an acceptable solution, Italian officials tell NDTV
)
The marines were guarding an Italian tanker off the Kochi coast in February last year when they say they mistook two fishermen for pirates, and shot them.
Italy claims the shooting took place in international waters, and India does not have jurisdiction. New Delhi disagrees.