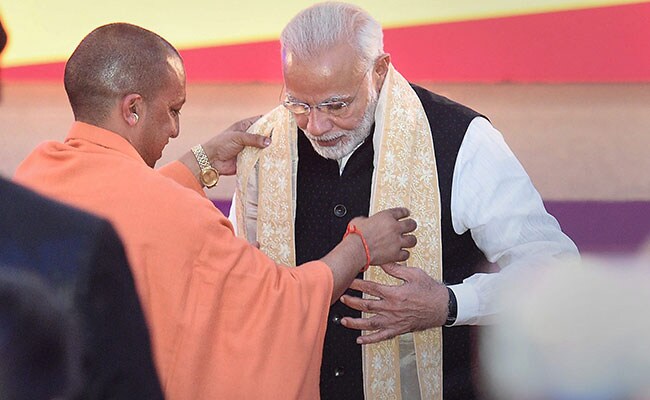 Highlights
Prime Minister Modi in Lucknow, inaugurates 'UP Investors Summit'
5000 people including industry leaders, ministers, policymakers at summit
Yogi Adityanath: UP will get an opportunity to change its image
Lucknow:
The BJP is pulling all stops to generate employment and growth to Uttar Pradesh, one of the India's four states which traditionally had the lowest development index. As the state's Yogi Adityanath government held its first/second mega summit to draw investment, Prime Minister Narendra Modi, who inaugurated the event in Lucknow today, announced a mega defence industrial corridor in Bundelkhand region, one of the most backward regions of the state.
"One of the two defence industrial corridors mentioned in the budget is for Bundelkhand... this will bring an investment of Rs. 20,000 crore and generate employment for 2.5 lakh people," the Prime Minister said at the event in Lucknow, attended by industry captains from home and abroad, union ministers, chief ministers, policy makers and academics. President Ram Nath Kovind will attend the valedictory function on Thursday.
Delivering on its promise of development -- which helped the BJP to sweep to power last year in March -- is crucial for the party, which is hoping for a second term at the Centre next year when the general elections are held. Uttar Pradesh sends 80 Members of Parliament to the Lok Sabha.
Along with Bihar, Madhya Pradesh and Rajasthan Uttar Pradesh has contributed to the acronym "Bimaru" - which in Hindi also means sick. All four states have been extremely low on development index.
Ahead of the event, heaping praise on the Chief Minister, PM Modi tweeted: "Potential + Policy + Planning+ Performance bringing progress, UP government is ready for super-hit performance".
Lauding the Chief Minister's new policy "one district one product", PM Modi said it could prove to be the game changer for the state. Mr Modi also said international airports in Jewar and Kushinagar are in the pipeline.
Yogi Adityanath, too, had words of praise for the Prime Minister. "With PM's guidance and blessings, UP is heading towards development and shedding its Bimaru tag. We are trying to become developed," he said.
A total of 30 sessions have been planned for the two-day summit, which will be attended by central ministers Rajnath Singh, Nirmala Sitharaman, Ravi Shankar Prasad, Smriti Irani, Piyush Goyal and Dharmendra Pradhan. Industry leaders including Gautam Adani, Mukesh Ambani, Subhash Chandra, N Chandrashekharan, Anand Mahindra, Kumar Mangalam Birla and Shobana Kamineni are scheduled to speak during various sessions. Business leaders from Mauritius, Japan, The Netherlands, Finland, Czech Republic, Thailand and Slovakia are also in Lucknow to participate in Yogi Adityanath's flagship event.
Speaking to reporters in Lucknow, state industries minister Satish Mahana said, "Prime Minister Modi and the Chief Minister want to make UP a dream destination for investors...we want to make history... we have already signed 900 MoUs.