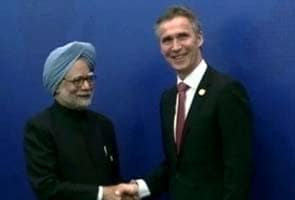 Seoul:
Dr Manmohan Singh has told the prime minister of Norway that he hopes there will be "a positive outcome" for the Indian parents fighting to bring their children back home from there. Sagarika and Anurup Bhattacharya have been trying their best to convince Norwegian officials that their young son and daughter should be released from foster care. Aishwarya (1) and Abhigyan (3) were taken away by child welfare officials in Norway who said the Bhattacharyas were negligent parents. Anurup was posted as a geologist in Stavager. His family's visas, and his own, expire this month.
Dr Singh told the Norwegian Prime Minister Jens Stoltenberg that India places much emphasis on strong family values. The meeting took place on the sidelines of a nuclear summit in Seoul. "It is a matter of municipality and judicial court. The sentiments of parents should not be hurt," Indian Foreign Secretary Ranjan Mathai said. Mr Stoltenberg reportedly told Dr Singh that the local municipality is planning to take the next steps in consultation with the district court and all parties concerned.
The Indian government stepped in a few months ago to point out to Norway that the children are Indian citizens and cannot be treated as "stateless orphans." A series of diplomats were deputed to meet child welfare and other authorities to help them accept Anurup's younger brother, Arunabhas, as the children's custodian. They would be allowed to return to India in his care with supervision by Indian authorities. But a Public Relations nightmare for the government erupted last weekend when different newspapers claimed that Anurup had said his wife is prone to violence and that he would prefer for his children to stay in Norway. Child welfare officials cited the dispute to say that the solution offered by the Indian government and the family no longer seemed acceptable. "In the light of the great uncertainty that now prevails, the Child Welfare Service (CWS) cannot maintain that a move to India would be in the best interests of the children," Child Welfare Service chief Gunnar Toresen had said.
The Indian government then asked the Bhattacharyas to clearly state what they wanted for their children. Anurup released a press statement that said that his wife and he remain committed to bringing their children home. The government has decided to back them. And the leaders of all major political parties have formally requested the Indian government to handle the case.