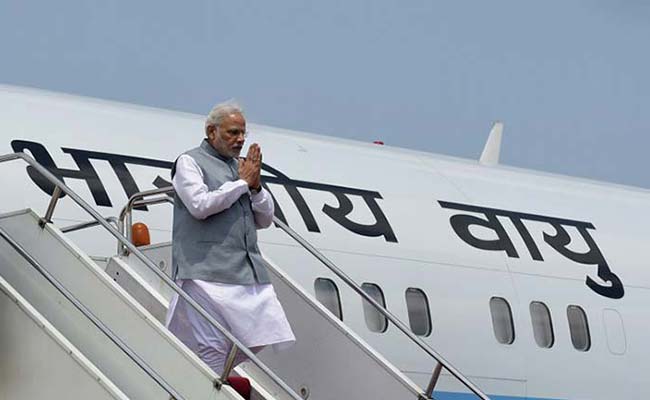 New Delhi:
Prime Minister Narendra Modi arrived in Dhaka this morning amid high expectations that his two-day visit will inject a new momentum in bilateral ties. In a departure from protocol, he was received at the airport by Bangladesh Prime Minister Sheikh Hasina. The two leaders will hold talks this evening.
The visit is also expected to give a boost to the trade between the two countries.
Bangladesh is an important trading partner for India. The two-way trade in 2012-2013 was US $5.34 billion with India's exports to Bangladesh accounting for US $4.776 billion and imports US $0.564 million.
PM Modi, West Bengal Chief Minister Mamata Banerjee and Ms Hasina, will flag off bus service between Kolkata and Agartala via Dhaka and the Dhaka-Shillong-Guwahati bus service.
The two countries are keen to strengthen railway connectivity, particularly to revive railway links which were in existence prior to 1965. They are also set to sign a coastal shipping agreement to facilitate sailing of small vessels from India to various ports in Bangladesh which now go through Singapore.
India will also push for involvement of Indian companies in setting up of ports in Bangladesh.
The issue of Bangladesh, Bhutan, India and Nepal (BBIN) Motor Vehicle Agreement is also likely to figure in the talks PM Modi will have with Ms Hasina. India feels improving connectivity with Bangladesh will help linking the Northeastern region with Southeast Asia.
On the trade front, there will be efforts to spur Indian investment in Bangladesh and an enabling Memorandum of Understanding (MoU) may be signed to facilitate setting up of Special Economic Zones by Indian companies in that country.
India has already announced that the long-pending Teesta water-sharing pact with Bangladesh will not be signed during the visit.
However, issues relating to sharing of other river waters and waterways were expected to figure in the talks.
The Teesta deal was set to be inked during then Prime Minister Manmohan Singh's visit to Bangladesh in September 2011 but was postponed at the last minute due to objections by Ms Banerjee, who had also dropped out of the Prime Ministerial delegation.
Teesta water is crucial for Bangladesh, especially in the leanest period from December to March when the water flow often temporarily comes down to less than 1,000 cusecs from 5,000 cusecs.
In Dhaka, the Prime Minister will also call on President Abdul Hamid and will meet prominent political leaders including Leader of the Opposition Raushon Ershad and former prime minister Khaleda Zia.
On his arrival, PM Modi would be accorded a ceremonial welcome in Dhaka following which he is expected to visit the National Martyr's Memorial and then the Bangabandhu Memorial Museum.
He is also scheduled to visit Sri Sri Dhakeshwari temple and the Ramakrishna Mission besides visiting the new chancery building of the Indian embassy.