Highlights
Rahul Gandhi joined ATM line in Delhi early this morning
His party leads attack on PM over demonetisation
PM took historic step without consulting anyone: Rahul Gandhi
New Delhi:
"The biggest economic decision in India's history was taken by Prime Minister Narendra Modi without consulting anybody except for 3-4 people," said opposition leader Rahul Gandhi today about the government's withdrawal of 500-and 1000-rupee notes. As a result, Mr Gandhi said, the fallout on millions of Indians has been unmitigated. "This is the direct result of one man having all the powers and taking action without thinking," he added.
The
Congress Vice President queued early this morning at an ATM in Delhi
to share the experience that has outraged the public, his party said. This was Mr Gandhi's third stint at lining up at a cash machine in recent weeks. "Wherever I go, I see people suffering because of this," said Mr Gandhi.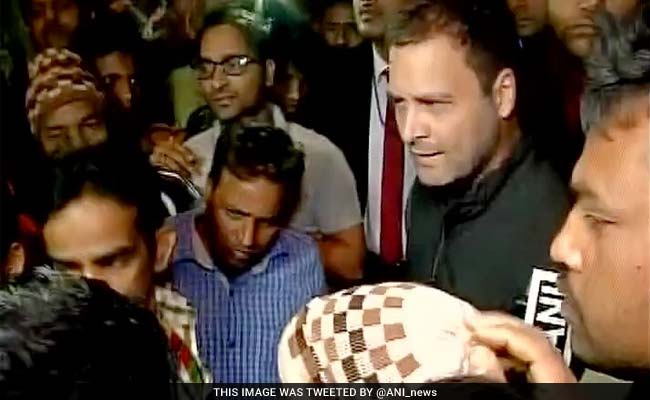 "I'm not sure what to call him... a super-Prime Minister, perhaps," Mr Gandhi said, "he is on a different level these days" - criticism intended to reinforce the opposition's allegation of the PM's authoritarian style of leadership. "Where is the need for the PM to come to parliament," he asked sarcastically, referring to the absence of a statement by Mr Modi so far in parliament on the audacious reform.
The Congress is gluing together opposition parties to attack the government for the move at demonetisation. Today,
parliament was stalled
as the opposition insisted that PM Modi speak on his reform in the Rajya Sabha or Upper House, where the government is in a minority. Finance Minister Arun Jaitley said that by spurning his offer to present the government's stand, the opposition's lack of interest in a discussion on the issue has been exposed.
PM Modi's move to pull the old notes with just a few hours of notice has forged long waiting lines at banks which do not have enough of the new currency to hand out. ATMs run dry quickly; many are technically not able to dispense the new 500-and-2,000-rupee bills.
The PM has asked in different speeches for the public to give him
till the end of December to get rid of black money
. He says he is aware of the hardship caused, but knows that "the temporary pain will result in long-term benefits."
The notes that were outlawed formed 86 per cent of the money in circulation, and most of India's transactions are done in cash. As a result, rural India has been hit especially hard where banks are not easy to access and lakhs do not have accounts.