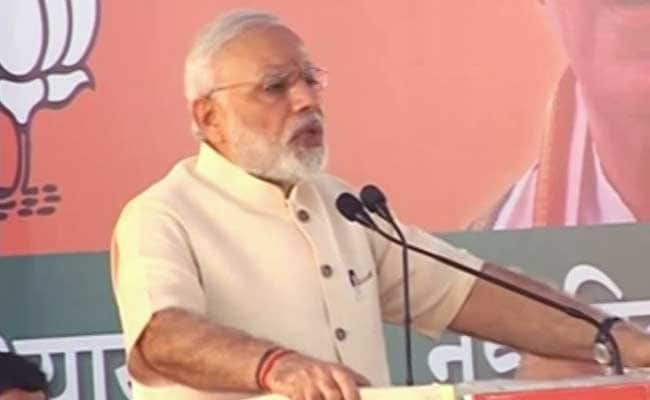 New Delhi:
The BJP has faced more adversity in independent India than the Congress would have even during British Rule, Prime Minister Narendra Modi said today in comments that have drawn instant protest from the main opposition party.
Asserting that the BJP has made more sacrifices than any other political party, PM Modi, who laid the foundation for a new party office in Delhi, said, "The BJP will be the only party which has faced hurdles all its life, with each effort scrutinised and judged negatively...The Congress, even during British Rule, didn't go through such adversity as we, our dedicated workers, have gone through in the last 50-60 years."
The Congress has called it "a grave insult to the freedom movement" and has demanded PM Modi withdraw his comment and apologise.
"Modi ji has insulted India's freedom struggle and every person who was hanged, locked in jail and gave up everything for India. Modi ji has insulted Bharat Mata," said Congress spokesperson Randeep Surjewala, a short while after the Prime Minister made his speech at the BJP function attended by top party leaders like party chief Amit Shah, veteran leader LK Advani and senior ministers Rajnath Singh and Arun Jaitley among others.
PM Modi attacked the Trinamool Congress too when he said that the BJP found it difficult to hire an office in Kolkata during this year's assembly election in West Bengal as anybody willing to given them space would face trouble.
The BJP's new Delhi office is being built on a two-acre plot on a street named after Deen Dayal Upadhyay of the Rashtriya Swayamsevak Sangh or RSS, the BJP's ideological mentor. It is five km away from the present office on Ashoka Road.
It has to shift as the Supreme Court has ordered all political parties to vacate bungalows in what is called the Lutyen's Zone in the heart of the capital.
The BJP has ambitious real estate plans - 200 swank new party offices are coming up all over the country, all of them linked digitally. The Delhi office will be a multi-storeyed building with three blocks, plush interiors, Wi-Fi and video-conferencing facilities.
With much more space, former BJP presidents will get rooms. This means that party elders like LK Advani and Murli Manohar Joshi, sidelined since the rise of the PM-Modi-Amit Shah team in the BJP, will have their own offices.