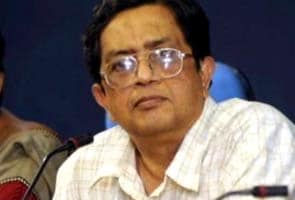 New Delhi:
Former Central Vigilance Commissioner (CVC) P J Thomas has decided to move the Supreme Court seeking review by a Constitution bench of its March 3 judgement quashing his appointment, claiming that judiciary has no right to decide his eligibility for the post without prior reference from the President.
His counsel Wills Matthews said that Thomas was waiting for the Centre to file a review petition and in the event of it not being filed, the former CVC would file it before April 2.
A review petition has to be filed within 30 days of the judgement.
On March 3 the Supreme Court quashed the appointment of Thomas as Central Vigilance Commissioner, holding that the recommendation made by the high-powered panel -- headed by Prime Minister Manmohan Singh -- did not consider the relevant material and therefore its advice "does not exist in law".
Thomas, in his review petition, has submitted that the Supreme Court should not have quashed his appointment without first allowing him to establish his innocence or otherwise in the palmolein case.
"The Supreme Court is having the power to initiate the proceeding for the removal of CVC, only on a reference made to by the President, and as such there in no reference of Her Excellency the President of India in the present matter, and hence, I fear whether the Hon'ble Supreme Court exercised jurisdiction on an issue in which it was not having the jurisdiction.
"This point requires further research and we are studying this issue. In case the Court exercised the power which it was not having, it is a void ab initio matter.
"In every fairness ,these issues require reconsideration ,and I am of the definite opinion that the Office of the President of India cannot be treated as a rubber stamp, and while interpreting the provisions of the provisions of the Constitution connected with the powers of the President of India, the CVC Act, the court cannot go against the basic structure of the constitution. The Constitution is supreme," the former CVC contended.