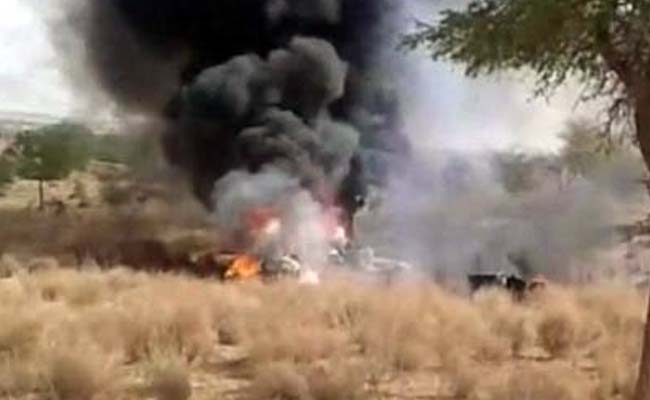 New Delhi:
Accidents involving fighter aircraft of the Indian Air Force in 2012-13 were caused due to "technical defects" and "human error", according to a report by the Comptroller and Auditor General. The number of such mishaps were considerably higher than in the past, says the government auditor.
The CAG report says there were as many as 33 accidents in which 27 pilots lost their lives in the period that was audited.
These accidents happened, the report says, because the Air Force could no longer train its pilots properly - it didn't have the full complement of basic trainer's aircraft, intermediate and advanced jet trainers and even simulators.
The report also says that the Bangalore-based Hindustan Aeronautics Limited (HAL) - a defense public sector unit - has been trying to develop a trainer aircraft for the Air Force for the last 14 years. Its inability to produce an aircraft has "adversely affected the stage-II training of pilots" - when they graduate to fly in supersonic speed, the auditor has observed.
The report has also found that the Air Force paid HAL over Rs 3,000 crore for developing the trainer aircraft but around Rs 6 crore have been spent so far.
If the non-availability of aircraft and training aid adversely affected the fighting capability of the India Air Force, its inability to store "sophisticated air armament, missiles, bombs" was also an area of concern, according to the report. Whereas the armament and missiles need to be stored in controlled, "dust-free conditions" and expired ammunition in designated bays carefully to "prevent environmental hazards", "certain stores are being kept" in the open, the report says
The auditor also said the Air Force faces shortage of "firefighting equipment".
The report further finds that the air element of the Indian Navy suffered equally due to the shortage of a particular category of torpedoes used from helicopters. These torpedoes are considered as critical deterrents against submarines. The CAG report, in fact, indicates that the Navy didn't have the minimum number of torpedoes that are required in case hostilities break out.
Inquiries by the government auditor has also revealed that Bharat Dynamics Limited - another defence public sector unit - which was to supply the torpedoes to the Navy could only supply "13 per cent of the required numbers". The inquires also reveal that major changes were made to specifications such as speed for the shipborne and fixed-wing version of the torpedo which were accepted by the Navy. Shockingly, the CAG report has found that the entire exercise began in 2006 but all versions of the torpedoes that can be fired from all helicopters in the Navy stable is yet to be completed.